Fine Art Shippers is an NYC-based art logistics company with years of experience in providing all kinds of art-related services. Apart from art shipping, we offer help with packing and crating artworks and antiques of any size and shape. Fine Art Shippers has been on the market for over two decades and has worked with many museums, art galleries, auction houses, and private clients. Throughout the years, we had the opportunity to sharpen our skills to the level that now allows us to find a personalized approach to each customer. We view every challenge as an opportunity to grow and are always excited to work on unique orders. Recently, we had the pleasure of crating a large antique hall tree that will be shipped from New York to California.
An Art Shipping Journey: Handling a Large Antique Hall Tree
Packing an antique hall tree is not as simple as it might appear. First, the measurements of the furniture piece have to be examined in great detail. Besides, not every shipping crate will fit to ship such a sizable and complex structure. While this might sound challenging, this is nothing new to our experienced team. Fine Art Shippers creates custom-made shipping crates for items of unusual measurements. Whether you are moving a uniquely shaped sculpture, a massive canvas painting, or an antique piece of furniture, we will find a way to accommodate your needs.
This antique hall tree was collected by our team from Bedford Corners, NY, and will be transported to Menlo Park, CA, by our art shuttle. We built a custom wooden crate for it to ensure this very delicate and fragile piece of furniture is properly packed and ready for a long trip. The hall tree will be shipped to California by our next cross-country art shuttle in April.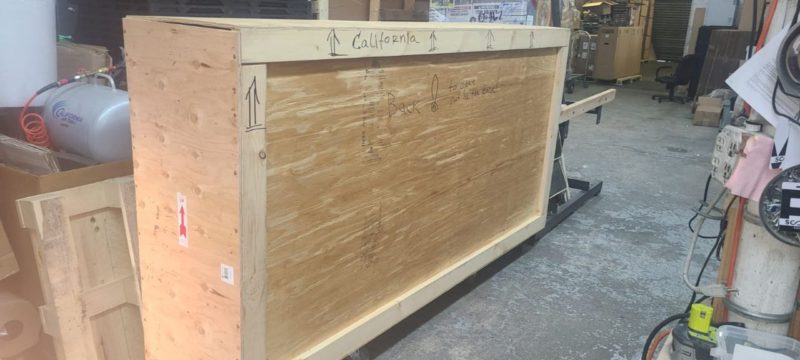 Fine Art Shippers uses vehicles that are specifically designed for art shipping. Our regular art shuttle truck is equipped with a climate control system and is spacious enough to ship large artworks and antiques. We regularly launch art shuttles across the United States, which makes them a great option for anyone who is looking to get their pieces efficiently delivered from one part of the country to another. Stops on demand are possible, so even if your city is not on our route, you can still book a pick-up or delivery. Contact our team today to learn more about our art shipping service.