CROSS-COUNTRY ART SHUTTLE
November 15, 2023*
NEW YORK – WASHINGTON, DC – VIRGINIA – GEORGIA – MISSISSIPPI – TEXAS – CALIFORNIA – OREGON – COLORADO – MISSOURI – INDIANA – PENNSYLVANIA – NEW YORK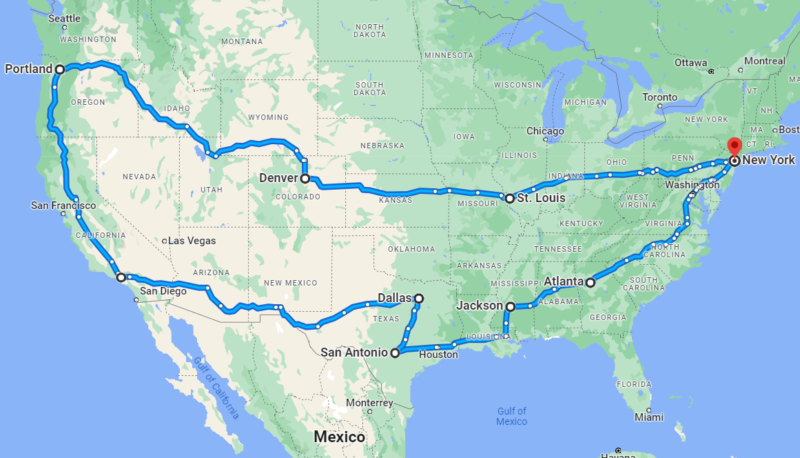 November 15: Washington, DC – Alexandria, VA
November 16: Atlanta, GA
November 17: Ridgeland, MS – Jackson, MS
November 18: San Antonio, TX – Austin, TX
November 19-20: Dallas, TX – Fort Worth, TX
November 22-23: Los Angeles, CA – North Hollywood, CA – Beverly Hills, CA – Pasadena, CA
November 24: San Francisco, CA – Piedmont, CA
November 25-26: Bend, OR – Portland, OR
November 27-28: Aspen, CO – Vail, CO – Denver, CO
November 29-30: Saint Louis, MO – Williamsport, IN
December 1: Mechanicsburg, PA
*Dates are subject to change
EAST COAST ART SHUTTLE (MIAMI ART WEEK)
November 30, 2023*
NEW YORK – WASHINGTON, DC – NORTH CAROLINA – FLORIDA – NEW YORK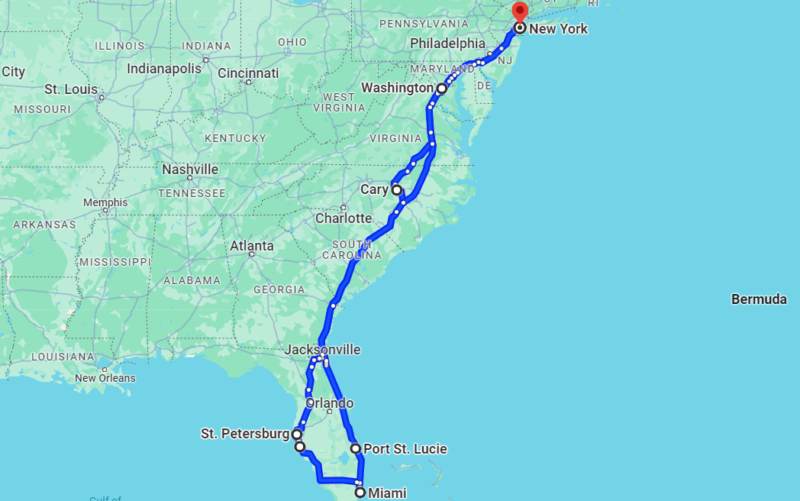 November 30: Washington, DC
December 1: Cary, NC – Raleigh, NC
December 2: St. Petersburg, FL – Sarasota, FL
December 3-11: Miami, FL – Miami Beach, FL – Fort Lauderdale, FL – Boca Raton, FL – Lake Worth Beach, FL – Wellington, FL – Port St. Lucie, FL
*Dates are subject to change
If you have art pick-up and/or delivery needs in other cities along the route, please contact our Operations Office at info@fineartshippers.com or request a free shipping quote online.
Art Shuttle Services
Fine Art Shippers is a professional art shipping company aiming to provide the art community with comprehensive, high-quality fine art services in the most effective way. We are especially proud of our art shuttle services that have become some of the most sought-after options over the last two decades of our presence in the art logistics industry. With our art shuttles, you can deliver art and antiques to wherever they need to be in the United States without any risk to your valuable belongings.
For years, Fine Art Shippers has been successfully collaborating with numerous art dealers, galleries, museums, auction houses, artists, and private collectors from around the United States. Our art shuttle service is specifically designed for those who value safety and efficiency above all.
How do art shuttle services work?
Everything starts with a plan. Our consolidated regular art shuttles follow pre-scheduled routes, which we announce beforehand so that our clients have time to book a pick-up. At Fine Art Shippers, we use Mercedes-Benz Sprinter vans equipped to ship fine art and antiques only. Each art shuttle van is operated by licensed drivers and expert art handlers trained to handle even the most fragile and delicate art objects. We always take an individual approach to each client and consider their wishes and requirements to provide the best art shipping experience possible. Following international standards, the team of art shippers uses the highest quality packing materials and foolproof art handling techniques.
Why work with Fine Art Shippers
Art shuttle services provided by Fine Art Shippers have always been a guarantee of success and peace of mind for our clients. Here are just some of the benefits you get when working with us. 
Experience. Fine Art Shippers has been providing national and international art transportation services since 1995. During this time, we have earned a name of a reliable art logistics company. However, shipping fine art is not only our job but also our passion that makes us get better with each year. 
Cost-effectiveness. Despite severe competition within the industry, we try to keep our prices reasonable. Also, we offer all our clients a free shipping quote they can easily request here on our official website. 
Added services. Along with the US art shuttle service, we have a range of other helpful services, such as art insurance and art crating, to customize and personalize your art moving experience.
Available options
No matter where you are in the United States, our art shuttle services are available all over the country. Starting in New York, we cover all states of the conterminous US, with shuttles going to Florida, Maryland, Georgia, Texas, New Mexico, California, Oregon, Washington, Colorado, Illinois, Michigan, Massachusetts, and more. With Fine Art Shippers, you can easily ship fine art and antiques to Miami, Washington, DC, Baltimore, Boston, Atlanta, Charlotte, Houston, Dallas, Santa Fe, Albuquerque, Phoenix, Los Angeles, San Francisco, Portland, Seattle, Salt Lake City, Denver, Chicago, Detroit, and a whole range of other cities.
At Fine Art Shippers, we strive to make the lives of artists, galleries, art curators, and art collectors much easier. Whether it is a single painting or a large collection of art for an upcoming art fair or show, we guarantee top-notch art shuttle services to ensure your dazzling success!