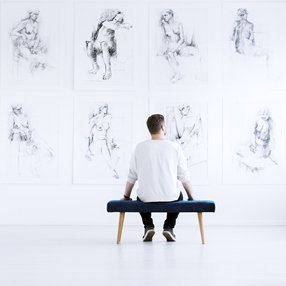 Headquartered in the heart of New York City, Fine Art Shippers is one of the leading fine art shipping companies providing a variety of artwork transport services both nationally and internationally. Moreover, we are proficient in moving art and antiques of all sizes and shapes, be it an individual artwork, a traveling exhibition, or a large collection, which means that no job is too challenging for our team. As a result, you can rely on us with any artwork transport need or problem you have.
Our artwork transport services are cost-effective
While to order traditional delivery service for moving your art may seem a more cost-effective solution, the truth is that it may end up costing more than you think, especially if your precious possessions are damaged in transit. Besides, delicate items, like pottery and oil paintings, require special packaging and, in many cases, custom built wooden crates that can be provided by only experienced artwork shipping companies. However, that's not all!
Fine Art Shippers also offers the most cost-effective artwork transport solution possible. In addition to our many other white glove services, we give our clients an excellent opportunity to save some money by choosing our weekly art shuttles operated by experienced drivers and art handlers who are already on their way to the place where your artwork needs to go. Plus, our art shuttles circulate east to west, north to south, as well as across the country, so that you have plenty of options to choose from.
Top 4 reasons to order our artwork transport services
We know how to safely pack and ship art of any kind, from paintings and ceramics to large and heavy outdoor sculptures.
Our company operates not only across the U.S. but also internationally, so we can deliver your artwork to wherever it needs to be in the world.
You can request a free shipping quote right from this website. Besides, we are always ready to answer all your questions.
Whatever artwork transport method you choose, it is always a good idea to properly insure your precious possessions, and we can easily help you with that too.
If you are looking for a high-quality artwork transport service, you won't find a better and more cost-effective solution than to hire Fine Art Shippers. Our team will not only deliver your art in its pristine condition but also will provide you with the best art shipping experience ever.