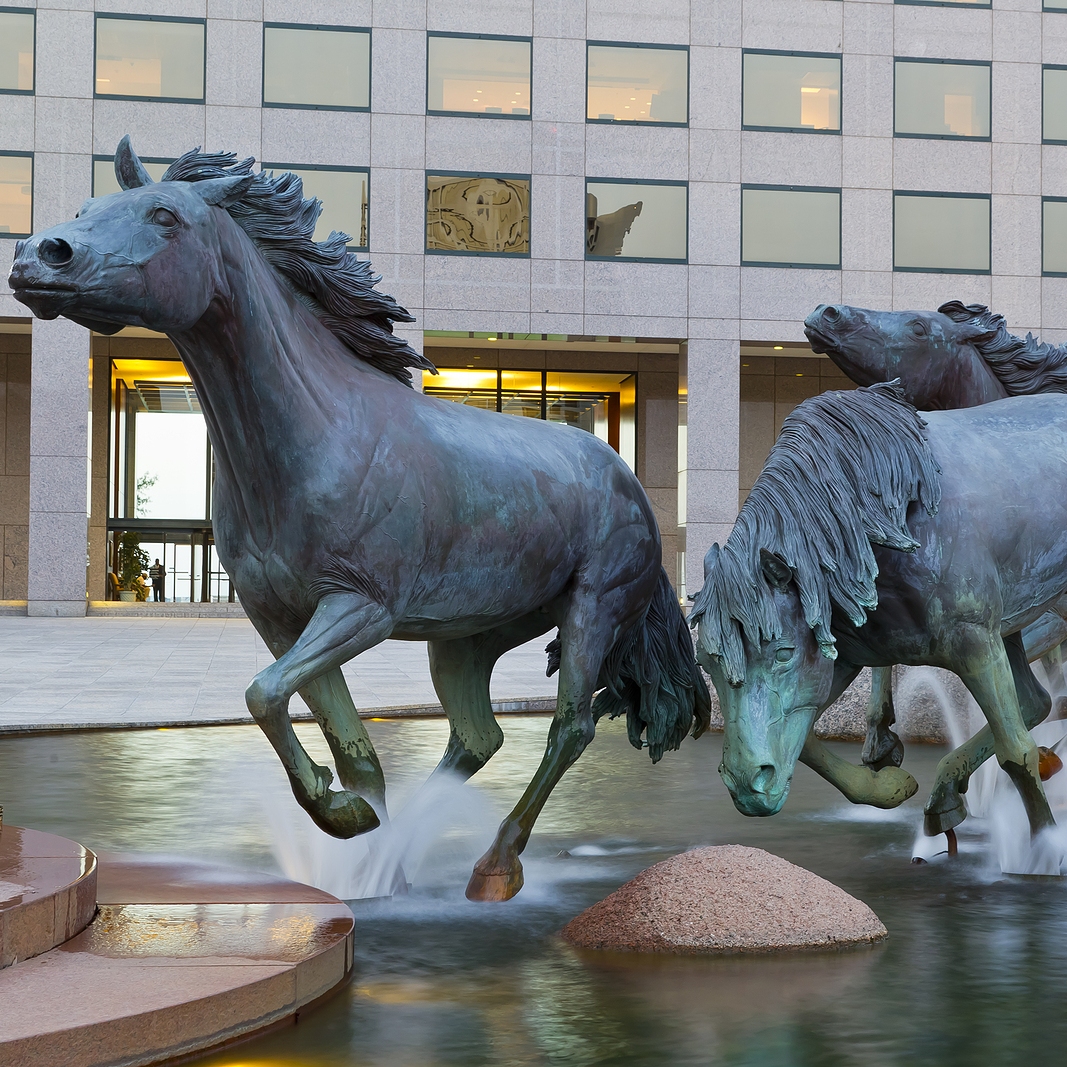 It's a well-known fact that technology does not stand still, and the fantastic world of fine art is no different. As a result, the technique of creating paintings and large sculptures changes every year. However, among a great variety of traditional, modern, and antique items, there are several absolutely unique large art pieces that occupy a special place in the hearts of art lovers. Here is our top 5 list of the world's most interesting large sculptures!
1. The Mustangs at Las Colinas
This bronze outdoor sculpture installed in 1984 is actually a group of large sculptures that decorate Williams Square in Las Colinas, Irving, Texas. Created by Robert Glen as a memorial to the evolving culture in North America, it has become an epitome of the unfettered lifestyle, initiative, and drive inherent to Texas in its pioneer days. Today, this art installation represented by nine wild mustangs running through a watercourse is considered the largest equestrian outdoor sculpture in the world.
2. The Force of Nature
The Force of Nature is a series of bronze, aluminum, and stainless steel large sculptures located in the United States, England, Singapore, Monaco, and some other countries. It was created by the Italian artist Lorenzo Quinn, who had witnessed for himself the destruction caused by hurricanes in the Southern U.S. and Thailand. Each outdoor sculpture from this series represents Mother Nature pivoting planet earth around with a piece of cloth. Such a furious and powerful image is another reminder of the false sense of security people hold toward the power of nature.
3. The Engagement
This art installation created by Dennis Oppenheim in 2005 is definitely one of the most unusual sights of Vancouver, Canada. It represents two 30-feet diamond engagement rings made of aluminum, stainless steel, and translucent plexiglass boxes. Such a fantastic illuminated outdoor sculpture, as well as its variations located in Nevada, California, Finland, and Austria, symbolizes the power of love and the strength of marriage.
4. Nelson Mandela Capture Site
This impressive outdoor sculpture created by Marco Cianfanelli to honor the South African politician Nelson Mandela is placed near the town of Howick, KwaZulu-Natal, South Africa. The beauty of this art installation consisting of 50 laser-cut stainless steel columns cannot be seen at a glance. However, if you look at it from the right angle, you will see a profile portrait of Mandela. It's interesting that this piece of modern large sculptures is positioned close to the spot on the road where this great man was captured in 1962.
5. De Vaartkapoen
The last on our list of the most interesting large sculptures in the world is the De Vaartkapoen statue created by the talented Belgian artist Tom Frantzen in 1985. Such a humorous outdoor sculpture of a toppling policeman illustrates the famous cartoon serial about Quick and Flupke. Located in Molenbeek, Belgium, this unusual and a little bit childlike piece of art represents an idea of overthrowing authority.