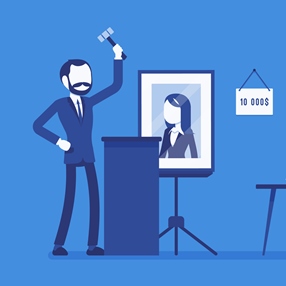 Fine Art Shippers has earned a reputation for excellence by maintaining the premium quality standards at all levels of the art transportation process. Based on more than 20 years of experience in shipping fine art, our team provides a full range of services to the art community in the Tri-State Area and beyond, handling and moving valuable, large, and fragile items of any kind. Moreover, since we operate both across the country and across the world, our artwork shipping services are chosen by many art business professionals and collectors who purchase fine art and antiques at auctions. In this blog post, we want to tell you a bit more about our auction shipping services and how you can benefit from dealing with our team.
Auction houses
Our experience in shipping fine art and antiques has made Fine Art Shippers a preferred company for Shapiro Auctions, one of the most reputable auction houses headquartered in New York. Besides, we work with Jackson's International Auctioneers and Appraisers, iGavel Auctions, Roland Auctions, Clarke Auction Gallery, Bruun Rasmussen, and many other auction houses across the United States. It is also worth noting that we not only coordinate pickup, packing, and shipping fine art and antiques but also set up pre-sale exhibitions and provide a whole range of art installation services on a professional level. The best auction houses entrust Fine Art Shippers with handling the most valuable and fragile works of art, and we are very proud to do this job for them!
Private collectors
Fine Art Shippers also provides comprehensive services to private collectors, shipping fine art for them both nationally and internationally. We frequently pick up art from Sotheby's, Christie's, and other auction houses at the request of our clients. Whether it comes to paintings, sculptures, or anything in between, we can deliver valuable acquisitions to wherever they need to be safely and securely. However, what makes Fine Art Shippers a perfect choice for shipping fine art purchased at auctions is that all our services are very competitively priced so that you are sure to benefit from dealing with us. Moreover, in addition to shipping fine art, we also offer a scope of other important services, including custom crating and same-day art delivery within the Tri-State Area.
Whatever your auction shipping needs, Fine Art Shippers is always here to help! It will be an honor for our team to ship fine art for you, no matter the destination!