Ballroom Basix, shortly BBX, will present its 11th Annual Benefit Gala & MilonGALA on Sunday, November 20, at the enchanting Edison Ballroom, which is just off Times Square in New York City. The program of the show will focus to create a cheerful, fun, and entertaining atmosphere for educators, students, and their families. Apart from the joy and rich experience that people get by participating, they simultaneously support the only large-scale non-competitive NYC dance program called "Ballroom, Latin & Line." Here is what you need to know if you want to join the celebration.
November 20: 11th Ballroom Basix Benefit Gala & MilonGALA
BBX has scheduled two distinct events that will be held at the same place but at different times. The Annual Benefit Gala will start at 3 PM and will last through 7 PM, while MilonGALA will go after that from 8 PM – 11 PM. The former will consist of four hours of dancing, with visitors having access to the premium open bar, hors d'oeuvres, and seated dinner. The guest performers Joe Battaglia & The New York Big Band and the guest vocalist Theresa Sareo will join forces to share the beautiful music to accompany the dancing fever of the magnificent place.
The MilonGALA will take three hours of dancing and offer guests fruit & cheese buffets, a premium open bar (8 PM – 9 PM), and complimentary wine (9 PM – 11 PM). It will also feature the Grammy Award-winning Pedro Giraudo Tango Quartet and DJ between sets. This part of the show is designed for young adults and older people. If you want to visit one of the events or both of them, you should buy a ticket at the official website of Ballroom Basix.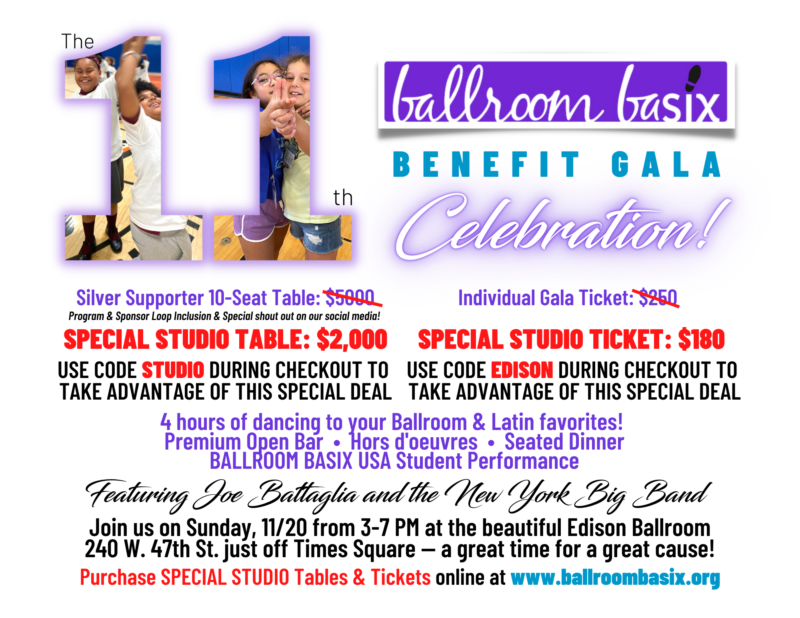 About Ballroom Basix
This arts-in-education non-profit initiative was established in Harlem with one important mission – to provide kids with social, physical, emotional, and cultural engagement through dancing. Last year, BBX gathered money to help students & families recover from the global pandemic. Social adaptation is an important part of the show, and the 11th edition won't be an exception. The organization rests on the shoulders of the responsible team of professionals and enthusiasts led by Sidney "Dr. Dance" Grant, the founder & executive/artistic director of Ballroom Basix.
Don't miss the 11th Benefit Gala and MilonGALA that will happen this Sunday, November 20.