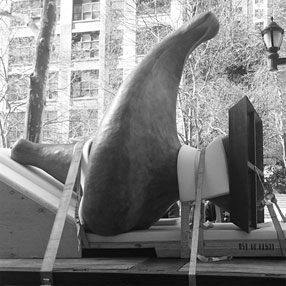 Fine Art Shippers work with some of the most prestigious museums throughout the US, providing professional crating, art storage, and transportation services. With 20+ years of experience in packing, safe handling, and couriering of valuable and fragile objects (e.g. Old Master paintings, large sculptures, antique furniture, porcelain figurines, and other items made from various materials), we are sure to meet the highest museum and conservation standards intended to protect artwork during transportation, storage, and installation.
We are proud to have a professional team of dedicated fine art movers, handlers, crate makers, and other specialists who treat each artwork with the utmost care and respect. Our extensive experience in moving large exhibits worldwide gives us an opportunity to always provide the best solutions tailored to the specific needs of each particular client. Thereby, whether it comes to artwork transportation and handling or art collection storage, be sure that we will take into account every little detail, including the age and condition of each item, as well as the humidity and temperature levels it requires. Moreover, we will custom design and build secure crates of museum quality to ensure your possessions are completely protected. If you have any questions or want to know more about our museum services, please do not hesitate to contact Fine Art Shippers in the way most convenient for you.
Museum crates
Our fine art crating center is located in New York, where we pack and crate museum and private art collections, providing them with stability and cushioning for any mode of transportation. Furthermore, at Fine Art Shippers, we have specialized equipment for professional crate manufacture, which means that we can produce museum crates for all types of artwork, even large sculptures with the most unusual sizes, shapes, and weight. Each item we work with is always carefully measured to determine the type of packaging and museum crate it requires for safe delivery.
However, packing and crating are not the only services we offer to museums and art collectors.
Our services include:
air and sea transportation across the globe;
local and ground transportation;
residential and business delivery;
white glove New York courier services;
home décor and antique furniture shipping;
New York moving services;
safe handling and couriering;
art hanging and installation services;
piano and grands moving;
art appraisal and art insurance;
art collection storage services in the majority of US cities, including New York, Philadelphia, Los Angeles, Miami, and Chicago.
Dealing with us means to work with a reliable partner who will ensure your art collection is properly protected at each stage of the transportation process. It's our top priority! For any further information, feel free to contact us today, and we will be happy to consult you!