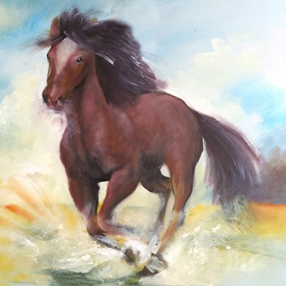 Auctions have long been one of the most popular methods of sale, providing a one-of-a-kind buying experience with lots of perks. Moreover, they offer truly unique and rare items that are often very hard or even impossible to find in the market. This is especially true for valuable paintings, sculptures, books, vintage furniture, and other exceptional pieces of art and antiques sold by Sotheby's, Christie's, Shapiro Auctions, Jackson's, Bruun Rasmussen, and other reputable auction houses from all over the world. However, what if you find, let's say, a painting that you have always dreamed of and now want to buy it online? How are you going to get it home? Well, if you need to ship a painting purchased at auction, you should find experienced shippers of fine art for this job!
How to ship a painting safely?
First of all, it should be noted that many auction houses have preferred fine art shipping and packing companies that they recommend to the customers. For example, Fine Art Shippers is a preferred art shipper for Shapiro Auctions, and we are very proud to ship fine art and antiques for this New York-based auction house and its clients. However, whether you need to ship a painting or any other artwork, you can certainly choose an art moving company for this responsible job yourself. In such a case, you should be very careful as the safety of your new acquisition largely depends on the experience and knowledge of the chosen art shippers.
At Fine Art Shippers, we provide a full range of auction shipping services to meet any need.  We can ship a painting, a large sculpture, antique furniture, religious artifacts, and many other valuable items sold at auctions. Moreover, since our family-owned art moving company operates worldwide, we can deliver your acquisitions to any country or city in the fastest and most efficient way. Along with that, all our art shipping services are reasonably priced, making them affordable for everyone. So if you are looking for the right company to safely ship a painting you have just purchased at auction, Fine Art Shippers is an excellent option for you! Whatever your auction shipping and packing needs, our team is always ready to provide you with all the necessary help and assistance to ensure that the entire transportation process is as safe and seamless as possible!