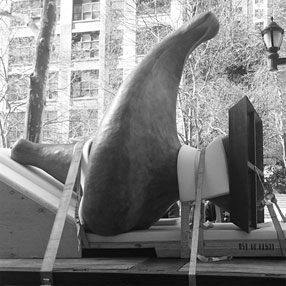 Shipping fine art is a challenging task that requires lots of expertise, knowledge, specific skills, and proper training. Only a combination of all these things allows packing and transporting valuable and fragile items safely. At Fine Art Shippers, we have many years of experience, and we have developed our own art packing and moving techniques you won't find anywhere else in the industry. This all gives us an opportunity to provide high-quality art transportation services to museums, galleries, auction houses, art dealers, artists, and collectors from all over the world.
One of the company's founders, Oleg Kushnirskiy, is a true expert in handling porcelains, with expertise that stems from more than 25 years in the art shipping industry. Moreover, our team is also proficient in shipping massive sculptures, like bronze and stone statues or granite museum exhibits. Such a combination of skills makes us a number one choice for moving large items and art installation projects wherever you need across the globe safely, quickly, and efficiently. Our excellent level of museum services is our pride, and we can guarantee every our client the best shipping experience ever!
However, you should not be a museum curator to order our services. Whether you are an artist or a collector, we will provide you with the same level of quality and professionalism. Our art shipping experience extends to:
antiques and historical artifacts;
museum exhibits of any size;
art installation projects;
oversized sculptures;
various display pieces;
statues and figurines;
glassware and vases;
porcelains and ceramics;
oil and watercolor paintings;
antique furniture pieces;
pianos and grand pianos;
and much more.
In fact, our team can handle any kind of artwork while providing an individual approach to every client. After all, if museums and galleries entrust us with shipping their precious possessions, you can rest assured that we will deliver your valuables wherever they need to be safe and sound. Our art moving company would be happy to help you at any stage of the transportation process, from packing and crating to storing your collection in one of our secure, climate-controlled storage facilities located in major US cities. Just let us know about your shipping problem, and we will make every effort to provide you with the best solution ever. What is more, all our services are reasonably priced so that you are sure to stay within your budget.