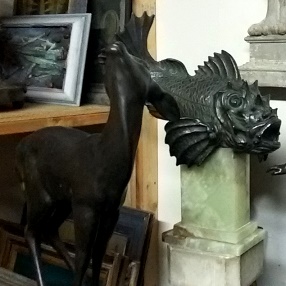 Even though large sculptures and large art pieces on the whole seem very strong and durable, they are actually very delicate and can be easily damaged in transit. Therefore, it is crucial to properly take care of them when you are getting ready to move. However, to protect them the way it should be is not that easy if you don't have special packing supplies and equipment. The situation becomes even more complicated due to the fact that large sculptures and other large art pieces are very different from each other, which makes the process of packing and moving extremely difficult and time-consuming. This is where you need professional art moving services!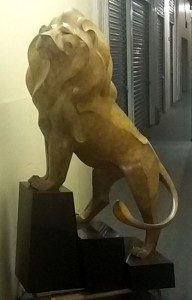 At Fine Art Shippers, we have been moving, packing, and crating large sculptures and other large art pieces for years and know how to keep even the most delicate item intact. Currently, we are moving several different art collections from New York City to Miami, including very complicated and expensive bronze items and statutes. One of them is an exceptional 500-pound Lion sculpture that was exclusively made by MGM Studios. In fact, there are only a few copies of this unique sculpture worldwide, which makes it even more valuable in artistic and commercial terms. As you might have already guessed, to pack and move such sculptures is not what you can do on your own. That is why you do need professional art shipping help and certainly a valid art insurance!
What if you want to ship small art pieces and sculptures? Though you are still recommended to use art shipping services, no one can forbid you to move them yourself. However, before you actually do it, make sure you have properly packed your art collection. After all, whether your statues and sculptures have a sentimental or monetary value, you don't want them to be ruined during transportation. The following packing tips can help you protect your possessions from possible damage:
Disassemble the item if possible. It is always recommended to pack each piece separately for the maximum protection.
Choose the box of the right size. Take a strong box that is bigger than the packed item. However, make sure it is not too big, as it may also be a reason for damage.
Use bubble wrap. Bubble wrap is one of the most commonly used packing materials that offer surface protection. Although it is not always suitable for very delicate pieces, most small and medium-sized sculptures can still be wrapped in bubble wrap.
Fill the empty space. Place your wrapping inside the box and fill the empty space with more bubble wrap or packing peanuts to prevent your sculpture from shifting during transit.
Seal the box. Once everything is packed, properly seal the box and label it with your name, contact phone number, contents, and other information. To use "Fragile" and similar labels is also a wise solution.
These simple tips can help you avoid damage during transportation, so do not neglect them. Meanwhile, we remind you that you can hire Fine Art Shippers for moving small and large sculptures at any time. We are always ready to help!