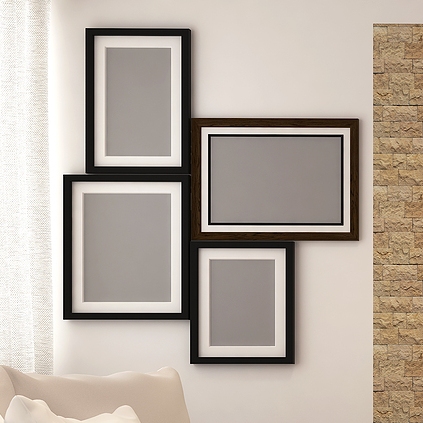 So, the holiday season is over. Your guests have come and gone. The Christmas tree has been propped up outside in a snowbank for the birds to enjoy, and the decorations have been put back in their boxes. The good news is that now you have enough time for decorating your home with beautiful prints, paintings, or other fine art pieces you have received as a gift. Or maybe you have a whole art collection waiting for its time to be displayed? Well, a new year gives plenty of opportunities to change something. Why not start with home decor? However, if you want everything to be just perfect, you need to consider many important details, such as symmetry, frame style, and size of your prints and paintings. Here are some smart ideas you can use for art arrangement in your home.
1. Linear arrangement
If you have several prints or paintings of the same size and with the same frames, a linear arrangement is a good choice. Moreover, it can emphasize the balance and style of any home. You are actually limited by only the wall height or width, depending on whether you prefer vertical or horizontal arrangement.
2. Salon-style arrangement
If you have ever visited large art museums, you know what it means. In fact, a salon-style arrangement is the oldest way to display art not only in museums but also in private homes. Its main idea is to hang many paintings of different sizes and with different frames together on the same wall. Sounds crazy? However, if you properly arrange your collection from floor to ceiling, it will make your home intimate and cozy.
3. Clustered arrangement
If your art collection is not so large to be hung on the entire wall, you can still put your prints and paintings all together, even if they have different sizes. Just choose organic space and arrange them in an asymmetrical way. The only thing to remember is that your room will look much better if all the artworks have frames of similar thickness.
4. Grid arrangement
A grid arrangement is a smart solution for those who have many pieces of the same size and with the same frames. This approach requires you to hang the artworks in precise columns and rows, thus emphasizing symmetry and order. You don't have to use the whole wall. You can choose its part and hang your prints and paintings as low, high, and wide as you like. However, ensure you have enough pieces to create full columns and rows.
5. Arrangement of a single painting
Finally, if you have a large, old painting or a single piece of modern wall art, you need to think twice about where to hang it. The fact is that such artworks create a strong focal zone and, therefore, require ample wall space. In most cases, it is better to hang such pieces in the center of the wall or above a fireplace, bed, or another similar object.
Please note, if you need the help of professional picture hangers, do not hesitate to contact Fine Art Shippers. We offer qualified art hanging and art installation services at affordable prices!