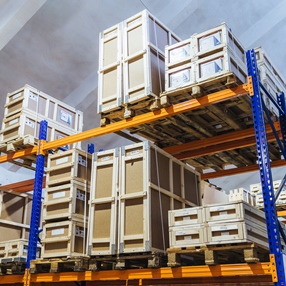 It is not a big hassle to send a small parcel from, let's say, New York City to Chicago. However, what if your parcel is not so small? Or what if you need to ship something truly fragile and valuable like oil paintings framed with glass, a collection of antique porcelain, or a very expensive mirror that once belonged to your grandmother? How about moving designer furniture over a long distance or shipping heavy boxes in large quantities? FedEx, UPS, and USPS are not an option in such a case. However, the good news is that any item or items, no matter how large and heavy they are, can be shipped in the United States. You just need to know where to look for professional help with shipping heavy boxes and oversized items of any type!
Packing and shipping services
Whether it comes to moving a collection of valuable art or shipping heavy boxes of any size and weight to another city, Fine Art Shippers is always the right choice! First of all, we specialize in handling, packing, and shipping art and antiques, which includes everything from priceless family heirlooms to museum exhibits and public installations. Moreover, we have years of experience and all the needed tools and vehicles to ship various large and heavy items, ranging from home appliances and furniture to metal constructions and heavy equipment. In other words, whatever problem with shipping heavy boxes you have, we can solve it for you quickly and efficiently!
At Fine Art Shippers, we also offer professional packing and crating services tailored to meet any need and requirements. Besides, if you are shipping something really large and heavy like a metal outdoor sculpture, we can come to your place and prepare it for the move on-site, provided that enough space is available. In general, no job is too complicated for Fine Art Shippers, so feel free to contact our team each time you need professional packing and shipping help in the United States.
Finally, it is impossible not to mention that while shipping heavy boxes and oversized items of any type is a complex process that requires special expertise, it won't cost you a fortune if you entrust this job to Fine Art Shippers. All our prices are very competitive, and you can easily check this out by requesting a free quote. Shipping heavy boxes in the United States has never been more affordable!