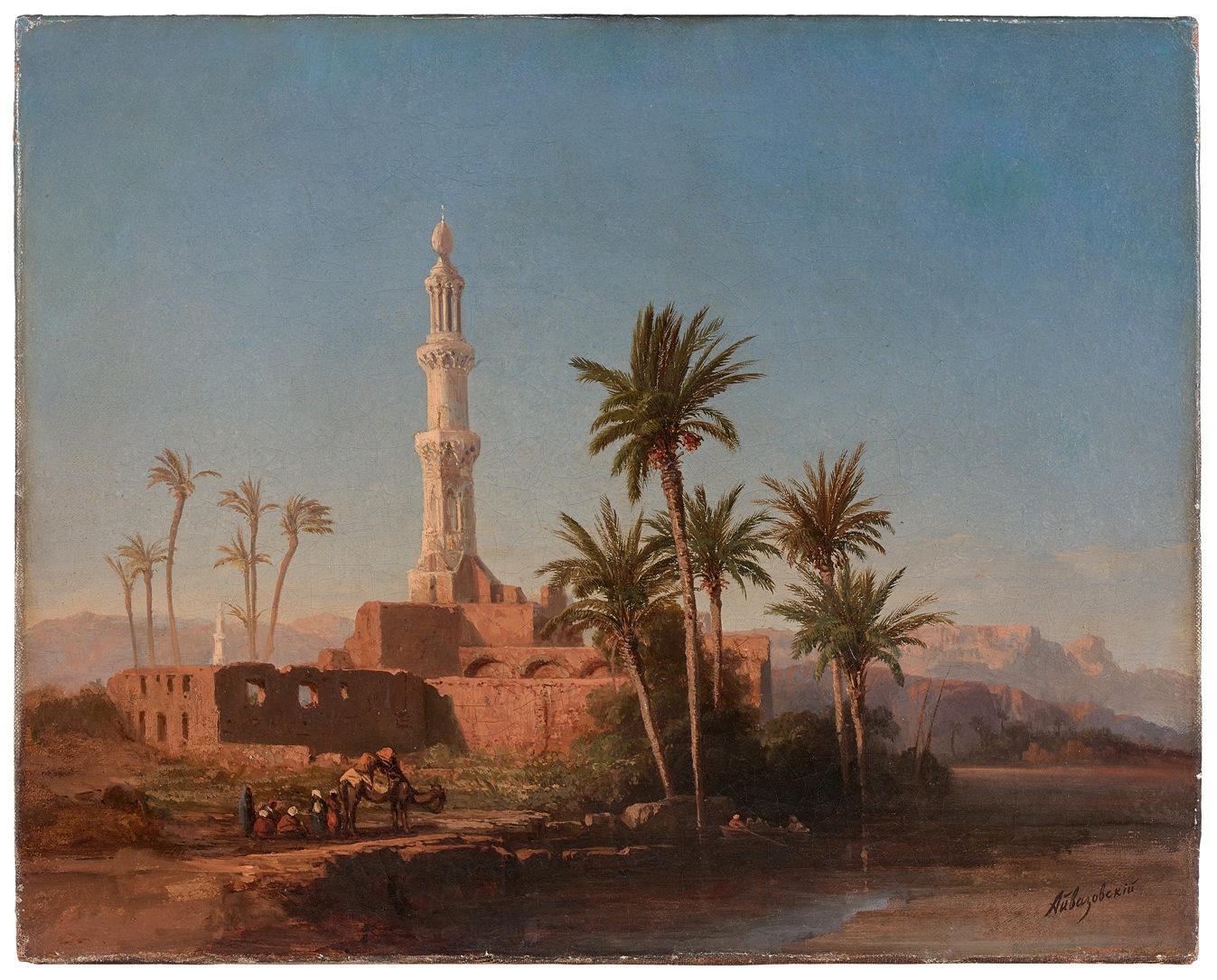 The reputable European auction house Millon will conduct an important auction of Russian art on June 1, 2021. The sale featuring 311 lots of fine paintings and works of art will take place at the Hôtel Drouot in Paris, starting at 2 pm. Public viewing will be held on May 29 through May 31, from 11 am to 6 pm. The expert of the upcoming Russian Art Auction is Maxime Charron, a recognized specialist in the field of Russian art and founder of Royal Provenance Gallery. Now let's take a closer look at the auction highlights.
Millon Russian Art Auction Highlights
Millon Russian Art Auction will present a fabulous selection of antique Russian icons and fine paintings, including "An Oasis in Egypt" by Ivan Aivazovsky (lot 55 – pictured left), a collection of unpublished works by Felix Varla (lots 93-127), and a collection of works by Jacques Chapiro (lots 74-92), among others.
Among other highlights of the upcoming auction is a collection of the famous 20th-century Russian opera singer and dancer Maria Kuznetsova. The collection features a fabulous stage dress for the opera Eugene Onegin, which was worn by Kuznetsova at the Mariinsky Theatre in 1907 (lot 156), Ruckert napkin rings for Fabergé (lots 149-152), an original painting by her father, Nikolai Kuznetsov (lot 158), and a series of paintings by her uncle, Dimitri Kuznetsov (lots 159-167), among other unique items.
Millon will also offer a gorgeous selection of enameled objects and goldsmiths' works, including a beautiful bowenite vase by Rappoport for Fabergé (lot 205).
It is also impossible not to mention a collection of jewelry and precious objects, which features malachites, bronzes, historical souvenirs, militaria, and also a magnificent Cartier frame for the Romanovs (lot 235).
The upcoming Millon Russian Art Auction is a not-to-miss event for all those who love and appreciate important Russian art. You can check out the full catalog of items at the official website of Millon auction house.