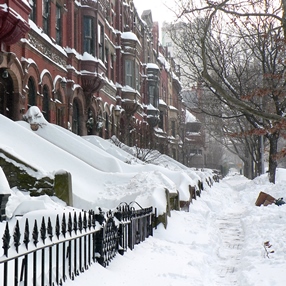 Moving is always stressful and tiring, but it can be even tougher if you have to move in winter. Moreover, what if you need to move expensive furniture or a vintage piano? Cold temperatures and snow on the ground make this task pretty challenging even for those who already have certain moving experience. However, it's not a problem if you order professional white glove moving services from experienced shippers of fine art, specializing in the safe transportation of valuables of any size and weight. Needless to say that a reliable luxury moving company can make your move as easy and stress-free as possible, even when it comes to moving in the winter months. Besides, winter is always the cheapest time for moving luxury home, both locally and across the country. Along with that, if you do want your winter move to be smooth and seamless, take advantage of the following tips from a luxury moving company!
1. Keep an eye on the weather.
Even when the sun is out for a long time, do not forget that it is winter and the weather can be very unpredictable. You should be ready to deal with rain, wind, and snow on a moving day.
2. Prepare your home for the move.
A safe environment is crucial for any winter move. For example, you need to clear the snow and ice from walkways, check the parking area, as well as protect the floors in your new home.
3. Start packing in advance.
Proper packing requires time, so do not leave this task until the last minute. Besides, consider ordering professional packing and crating services from a trustworthy luxury moving company to protect your valuables from temperature changes.
4. Have a backup plan.
Once again, it's winter! Consider that a storm can threaten your move, so you should be flexible and you definitely need a backup plan. Sometimes to reschedule your move is the best you can do to protect yourself and your property.
5. Plan your travel route.
Finally, to carefully plan your travel route is also essential if you want your move to be smooth. Plus, always keep an eye on the traffic reports and avoid busy streets, especially in poor weather.
If you are not sure you can handle your winter move on your own, order professional services from a luxury moving company. It will save much of your time and effort, not to mention that all your possessions will be properly protected in transit.