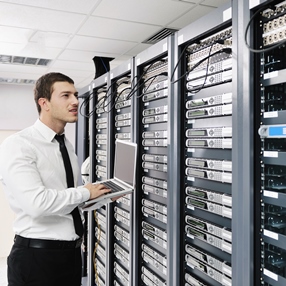 We live in a world surrounded by technology. Moreover, we live in a world full of data, and this data must be securely stored somewhere. It is no wonder that almost all businesses today, no matter small or big, have computers and servers for storing important customer and employee information. But what if you need to transport these high-value devices to another location, city, or even country? This task can be stressful and time-consuming for those who do not have experience in packing and shipping electronics. Thereby, rather than attempting to ship servers and computers on your own, it is always better to hire a reliable company specializing in moving delicate, sensitive, and fragile items.
As you know, Fine Art Shippers is a professional fine art shipping company with decades of experience in moving art and antiques, but we are also proficient in shipping electronics of any sort. Moreover, we can ship servers, computers, and other devices safely and securely not only across the United States but also internationally while providing the most economical shipping rates. So whether you need to ship servers from New York to Los Angeles or you are looking for the most affordable way to transport your valuable computer to Europe, Fine Art Shippers is here to solve any of your shipping problems!
Domestic and international transportation
When working with Fine Art Shippers, you have an opportunity to choose how exactly you want to ship servers and computers. We offer our clients a variety of options to meet any need and budget. For example, you can ship servers and other electronics by land, rail, sea, or air, depending on your shipping requirements and the destination. Besides, we can find for you the most effective multimodal option to streamline the process of international transportation and reduce your shipping costs.
Professional packing and crating
Our shipping services are additionally accompanied by the best-in-class packing and crating service. As one of the most experienced wooden crates manufacturers in NYC, we can design and build a secure crate for literally any item, no matter its size, shape, and weight. So if you want to ship servers, computers, or any other valuable electronics in the safest way possible, Fine Art Shippers is your best option.
In other words, rather than struggling to transport your personal or company's devices yourself, contact Fine Art Shippers and see how we can facilitate this process for you. We are always here to help!