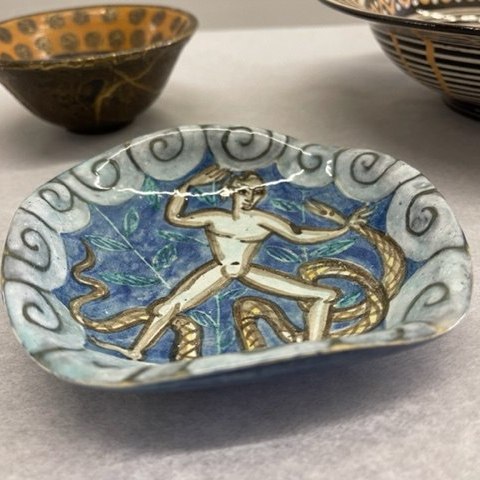 The main difficulty in pottery shipping is the fragility of the cargo. However, it is also important to know how to ship pottery sustainably, not just for the items but for the environment too. Below you will find some reliable and safe packaging methods to use.
How to ship pottery in an eco-friendly way
Ecological shipping starts from the packaging. Fine Art Shippers knows how to ship pottery reliably and sustainably at the same time and is happy to share some tips with you.
Reused bubble wrap of high quality
First of all, pottery should be tightly wrapped and fixed with cushioning material. Bubble wrap is usually used for this purpose. This material is a favorite one for many shipping companies because it is ideal for preventing damage. If you are not ready to refuse it, worrying about pottery safety, your first step to conscious usage of packing materials can be reusing bubble wrap. However, this should be bubble wrap of the highest quality, which can securely cushion delicate items even if used several times.
Double-wall corrugated cardboard
This material is a must-have. It can become a perfect second layer of protection for almost any piece of art and antiques, including pottery. Besides, double-wall cardboard is not only sustainable but also very convenient to use.
Honeycomb paper 
Honeycomb paper is another good material to consider. However, please keep in mind that it is not suitable for objects with fragile edges and protruding elements. It can be used in a safer way with an additional inner layer of wrap.
Crumpled tissue paper
Tissue paper is chosen by many art shipping companies. Since it is made from sustainably sourced recycled materials, it is very eco-friendly. You can use crumpled tissue paper when packing pottery and other fragile items.
Biodegradable packing peanuts 
How to ship pottery without a cushioning pillow inside the box? According to packaging rules, an item shouldn't touch the walls of the box. Usually, this is prevented with a layer of peanuts, which is, at least, 2 inches in width from each side. Standard peanuts can be replaced with biodegradable peanuts.
Sustainable tape
Common plastic tape can be easily replaced with water-activated paper tape reinforced with fiberglass strands. It fixes even better than a plastic one.
If you don't know how to ship pottery safely and sustainably, Fine Art Shippers will be happy to help. We have a large experience in shipping art and know everything about packaging and transportation of fragile items of any type.