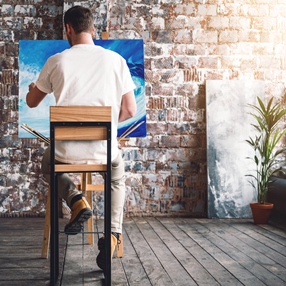 How much is it to ship a painting from NYC to Europe? This is perhaps one of the most asked questions we get at Fine Art Shippers. However, the truth is that there is no right answer to it. After all, each painting is unique, and each shipping request should be calculated individually. The good news is that being a professional fine art shipping company in NYC, we deal with paintings of any type, material, size, and weight, and we can deliver your artwork to literally any location worldwide. We simply need to know a few details about your piece and where it should be delivered to provide you with an accurate shipping estimate. So how much is it to ship a painting from NYC to Europe? Fill in the special form on our website to know the answer!
The cost of shipping a painting overseas
It should be noted that whether it comes to shipping a small painting to London or a huge museum-quality masterpiece to Berlin, Fine Art Shippers can provide you with the most cost-effective solution ever. The fact is that all our national and international artwork shipping services are very competitively priced, which makes our company a number one choice for many collectors, artists, galleries, and dealers wishing to save some money on the shipping process without sacrificing the safety of their precious possessions. As for your question, "How much is it to ship a painting from NYC to Europe?" our answer will depend on several important factors, including the following:
accurate dimensions of your painting;
the weight of your painting;
destination country;
pick-up and delivery requirements;
mode of transport to be used;
shipping timeframe;
packing, crating, storage, and other additional services.
If you provide us with the details of the transported piece and your shipping requirements, we will be able to give you the exact answer to the question, "How much is it to ship a painting from NYC to Europe?" as soon as possible. Moreover, we will offer the best way to ship a painting to its destination safely and securely while staying within your budget. Whatever your shipping needs, please do not hesitate to contact Fine Art Shippers and ask questions! We know how to solve absolutely any artwork shipping problem, and we are always ready to help!