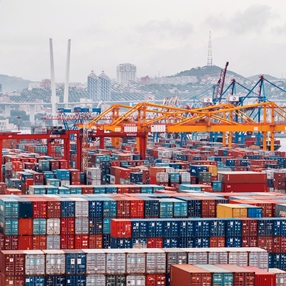 It is not a secret that the world is becoming more global and more connected with each passing year. As a result, people are buying more products from different countries overseas. Luckily, to ship freight to the United States from Asia, Europe, Australia, or elsewhere is not a problem anymore because the shipping industry is now as safe, reliable, and precise as never before. Moreover, this applies not only to shipping equipment, household items, clothes, and various other goods but also to shipping fine art, antiques, and other valuables that require special handling and care throughout the entire process of transportation. Being a professional artwork shipping company, we know that like no other, and we can say with confidence that whether it comes to art shipping or freight shipping from overseas, everything can be now done without too much stress and hassle. However, there are still several things you need to consider when shipping freight from overseas.
Freight shipping from overseas
It goes without saying that when it comes to freight shipping from overseas, the most important thing to do is to find a reliable company specializing in the long-distance transportation of your particular type of cargo. For example, if you are shipping artwork to the United States from anywhere in the world, you won't find a better option than Fine Art Shippers. Besides, our international shipping services are not limited to art and antiques only. We can also ship large furniture pieces, musical instruments including pianos of any size, heavy equipment, and a whole range of other items. However, if you are shipping, let's say, biological materials, liquid products, or dry bulk, you need to find another company specializing in the transportation of this specific type of cargo.
Another important thing to consider is time. It is needless to say that freight shipping from overseas is more difficult than freight shipping from within the United States and, therefore, requires more time. This is especially true if you are shipping your cargo by sea, which may take several weeks or even more. Each particular shipment is always discussed individually, but you should be ready to wait for some time in any case.
Finally, do not forget that you can always request free shipping quotes from different companies in order to choose the one that suits your requirements and budget best. Good luck!