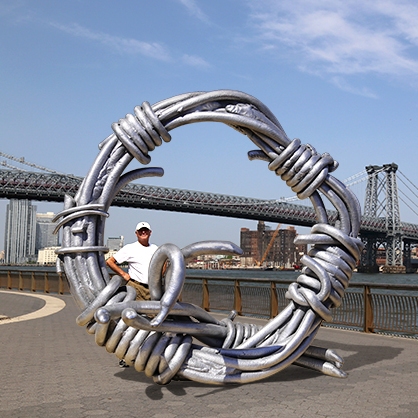 A knot is one of those symbols that can mean a thousand different things, depending on who you ask about it and where you go. For some, a knot is something magical and mystic; some understand it as a kind of connection; and for others, it is a sign of love. If you dig deeper into the symbolism of the knot, you will find out that it signifies bindings, completion, confusion, complexity, hidden secrets, and vows. In other words, it is an eternal symbol of life with all its contradictions, intricacies, and interrelatedness. This is exactly the concept hidden in fascinating knot sculptures by Mel Hantz.
Fascinating Knot Sculptures by Mel Hantz
Mel Hantz – or, as he is more commonly known, Sculptor Hantz – is an NYC-based artist who is best recognized for his amazing knot sculptures. Hantz creates his sculptural knots from recycled materials (bronze, copper, aluminum, and iron), using an extremely wide range of textures and configurations. Each piece is completely controlled by the artist from its inception, including all casting, welding, and finishing. This is an extremely complicated process, often with only one chance for success.
As mentioned above, the knot in the work of Sculptor Hantz is used as a metaphor for life. Each of his fascinating sculptures is a complex entity that is restraining, revealing, interactive, open, heavy, light, beautiful, and much more. It is an essence of a moment and a journey into internal reality at the same time. It is Art that is filled with philosophy and wisdom.
Knot sculptures by Sculptor Hantz have been exhibited at a number of exhibitions and shows, and they are installed in public spaces in NYC and Jacksonville Beach, Florida. The artist also creates smaller pieces that can adorn any home and become a meaningful addition to any art collection.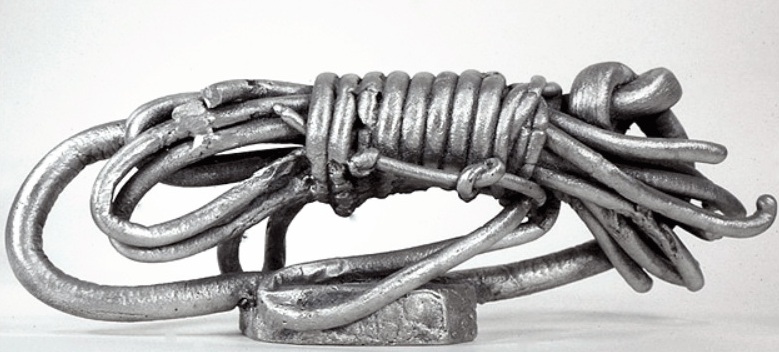 At Fine Art Shippers, we are proud to know Mel Hantz, and we are happy to help him ship his fascinating creations. We wish Sculptor Hantz lots of luck and success in everything he does!
Photo courtesy of Mel Hantz