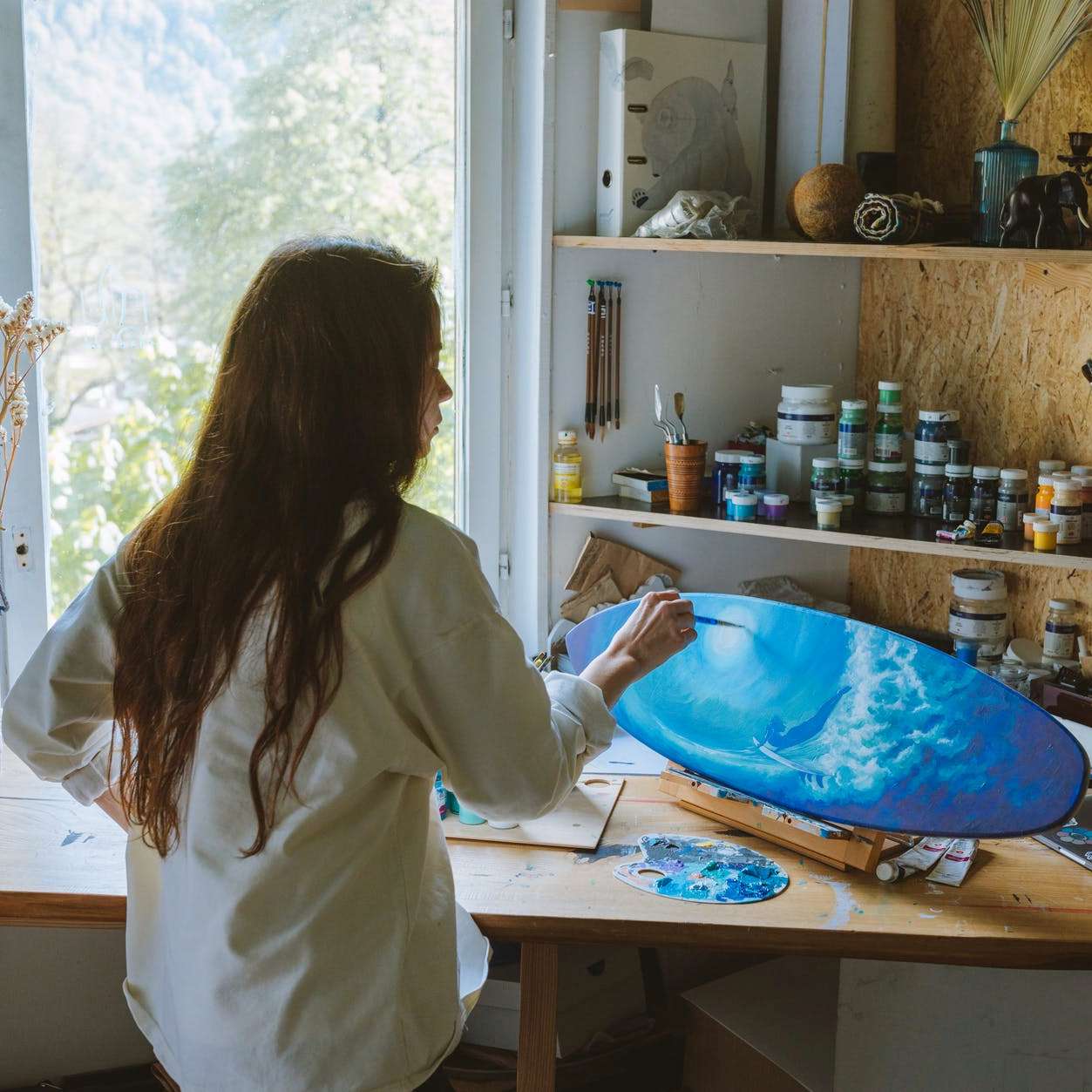 A degree in Art may be the right choice for you if you are creative and imaginative. Although art is not always a career subject, it can be useful preparation for the workplace. You can choose to specialize either in fine art or in the history of art. The skills that you learn during your degree will be highly valuable and transferable to many industries, including specialty art jobs.
It is essential that you have a diverse portfolio to present to potential employers for most of the careers in art, as well as your coursework, in order to be successful in any of the mentioned here career options. This theoretical part of your degree will allow you to explain your influences, why you chose certain themes, and the reasons you used these materials and techniques. Do not forget that getting an art degree also requires writing a thesis. So, it is no wonder that at some point, you may find yourself asking, "Who can help with my thesis?"
Network at all times throughout your studies. Find ways to show your work in public places by participating in as many exhibitions and competitions as possible.
Continue reading to learn more about the best careers in art and how you can increase your employment ability in these fields in 2022.
Artists who are professionals
If you are talented and dedicated, you can pursue a career in professional art. It is perhaps the most obvious of all art careers. This is a competitive career path that requires self-belief, perseverance, and the ability to market yourself.
You would benefit from relevant work experience in the creative industry, such as an assistant in a studio, and should be able to find new places to exhibit and sell your work in order to make yourself known. Artists may also choose to work part-time or full-time in an appropriate job such as an artist-teacher or tutor.
Illustrator
Illustrators are creative people who communicate ideas, messages, and stories to their intended audience. Most illustrators work freelance for several clients and may specialize in one medium such as photography, drawing, or digital illustration. Your portfolio should show that you are able to work with a specific brief.
It is important to show versatility in your work, especially when using computer-aided designing (CAD) techniques. You should have a postgraduate degree in fine art with a focus on illustration to give potential employers a wide range of skills.
Photographer
Photographers can use a variety of equipment to capture images according to the brief and style set by clients or employers. Photographers can specialize in many areas, including advertising, photojournalism, and weddings. You may find it advantageous to obtain a Master in Fine Arts in Photography.
You should not only work on your portfolio but also look for opportunities to network, publish work, and gain new skills through volunteer work shadowing or project work with photographers and other relevant employers.
Animator
Animation is the creation of multiple images, called frames. When these frames are combined they create an illusion that movement is occurring. Animation may be employed in film and advertising visual effects teams. This is another area that is highly competitive. In this instance, your portfolio would consist of a brief but effective portfolio, most likely an online portfolio video. A postgraduate certificate in animation is a good idea to increase your employability. You will need artistic talent, technical skills, and a keen eye for detail to become an animator.
Graphic designer
Graphic designers are responsible for designing solutions that make a strong visual impact. This role requires that you work to a brief established with the client, creative director, or account manager. Graphic designers create creative ideas and concepts and choose the right media and style to suit the client's needs. It is a good idea to have a degree in design or an aspect of design and be able to use the necessary skills, such as Photoshop. A Master of Design (MDes) may be an option.
Curator
As an art curator, you will be responsible for curating exhibits in galleries or museums. This includes deciding how to present the exhibition to the public, raising funds and grants, working with artists and institutions, and making sure that the collections are well preserved. You can choose from ancient sculpture to contemporary audio-visual art. You might think about pursuing a postgraduate degree in museum studies, as the field can be very competitive.
Printmaker
Printmakers make art with printing presses on paper and usually follow briefs. There are many techniques used, including block-printing woodcuts, silkscreening, etching, and lithography. More and more electronic and digital processes are being used. After completing a degree or certificate in fine arts, you might discover that printmaking is your preferred medium, particularly if you are an illustrator or designer. If you are looking to increase your employability, especially if you choose to be self-employed, seek out work experience opportunities. Also, build a network by reaching out in person.
Professor of art / art teacher
A career as an artist-teacher is a rewarding way to share your passion for art with young people. To teach at the primary/secondary level in most countries, you'll need to have a teaching qualification. For university teaching, you'll need to have a postgraduate degree.
To inspire and teach your students, you will need to have confidence, as well as excellent communication and presentation skills. You might also be able to teach private art tuition to small groups or specialize in a specific area like art therapy.
There are many other options if none of these art careers interest you. Graduates in Art can apply for jobs as mainstream graduates and receive training in a variety of industries such as marketing, media, and accounting.