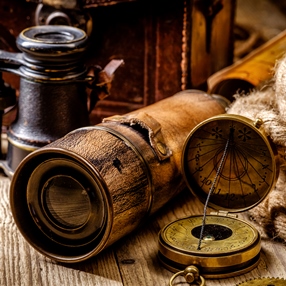 We all love traveling, meeting new people and experiencing new things. However, while some of us enjoy collecting memories by taking photos, others prefer bringing home some treasures from another country. Moreover, this applies not only to small souvenirs, like mugs or fridge magnets, but also to large antique items, like mirrors or furniture pieces. Hence the question arises: how to ship fine art and other collectibles from abroad?
Shipping antiques and art is almost never easy, especially when it comes to their international transportation. There are too many important things to consider, from proper packing to customs clearance and reliable fine art transport, so it is no wonder that you may find yourself needing some extra assistance from people specializing in shipping antiques. Along with that, not all situations require help from professional artwork shippers. Let's take a look at all possible options you have!
Option 1 – Using your suitcase
If you buy several small souvenirs that do not have any cultural or historical value, you can easily bring them home in your own suitcase, and it will cost you nothing! However, if you do not want your souvenir plates, magnets, and mugs to arrive in pieces, take your time to properly pack them before.
Option 2 – Buying an extra suitcase
In case you are not going to limit yourself to only a few souvenirs, consider buying an extra suitcase you can take with you as hand-held luggage. This is a good idea if you want to bring home many small and midsize items from another country.
Option 3 – Sending via the local post office
When it comes to shipping antiques and other collectibles of a larger size, you can always send them home via FedEx or the local post office. However, before you choose this option, make sure that your new valuables can withstand such a journey.
Option 4 – Hiring a fine art shipping company
Whether it comes to large paintings, fragile vintage figurines, or heavy furniture pieces, the only right way to transport valuable and expensive art or antiques from abroad is to hire a reliable fine art shipping company with extensive experience in this particular field. This is where Fine Art Shippers comes into play!
Regardless of the size, weight, and value of your new acquisitions, we can deliver them intact from almost any destination in the world! Shipping antiques and fine art is what we are proficient in, so the decision to hire our team is definitely the best one you can take when buying something valuable abroad. Contact us now for a free estimate!