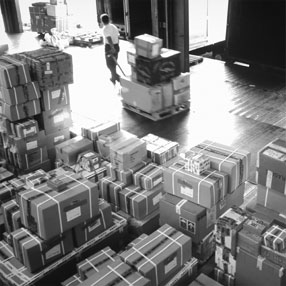 Works of art are very sensitive to rapid changes in external conditions and, therefore, should always be provided with proper handling. For this reason, there are important rules for storage, packing and crating, as well as for local and international transportation of different artworks, which are strictly observed by Fine Art Shippers. For today, we are ready to offer long- and short-term art storage options that include both discrete areas for private art collections and a climate-controlled fine art storage. For over 20 years, Fine Art Shippers have been providing secure storage solutions to the leading galleries, museums, auction houses, and also art collectors throughout the world. However, such a service may also be required by private customers who need to store their antique furniture or any other property for some time.
Fine art shipping is an absolutely special branch of transportation. Its main difference is the increased vulnerability and the high value of all transported objects. So if the owner of priceless artworks has decided to use the service of secure storage, he or she has to be sure that the property will be delivered to a warehouse in safety and that each particular work of art will be stored in optimum conditions, like those provided by our company. We are talking about temperature and humidity levels, lighting, and so on. Besides, our warehouse is constantly monitored by a highly trained staff and equipped with an active alarm system, a sophisticated contemporary security system, and a fully automated modern fire sprinkler system ready to guard your property 24 hours a day. What's more, it is completely covered with the special umbrella insurance that guarantees additional protection in case of unforeseen circumstances.
Fine Art Shippers offer storage facilities with the most secure and safest environment intended to keep all the stored objects intact. They include:
high-grade art storage capacity for small or large works of art;
storage areas for private art collections;
flexible storage options chosen for each client individually;
temperature and humidity-controlled area;
insurance compliant security;
and many others, depending on your personal needs.
The service of temporary art storage may be required, for example, by a museum or exhibition center for the period of any repairs or restoration works. If the area of museum storerooms is not enough to accommodate all the exhibits and provide them with all necessary conditions, then our secure art storage will become a reasonable decision. In addition, this service is available for private collectors or simply lovers of antiques and vintage items. Get in touch with Fine Art Shippers to discuss your art storage requirements in more detail and to find out more about all available art storage options. Feel free to contact our professional team if you have any further questions.