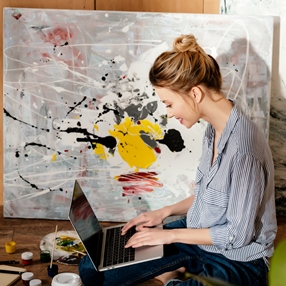 There comes a time in every artist's life when he or she needs to ship a painting to the client or a whole collection of artworks for the upcoming exhibition. The same applies to collectors and connoisseurs of art wishing their precious possessions to be safely delivered to another location. Hence the question arises: how to ship paintings across the country or internationally without risking any damage to them?
Fine Art Shippers specializes in artwork shipping on a professional level, which includes everything from local moving of small and fragile items to international transportation of oversized sculptures and antique furniture. Our team is also proficient in handling various works on paper, and we know exactly how to ship paintings of any size. Our custom packing and crating services are the key to safely transporting these delicate works of art from anywhere in the United States to anywhere in the world, which allows us to work with prestigious galleries, auction houses, and art institutions on a daily basis. In other words, whether your paintings are of high sentimental value, or they are authentic Old Master masterpieces, you can be assured that each of them is delivered to the destination in perfect condition. In addition, Fine Art Shippers also provides full replacement art insurance covering your treasured belongings from pick up to delivery.
However, what if you want to pack your collection yourself? In such a case, do not miss the following tips on how to ship paintings like a pro!
Wrap the painting in acid-free paper and then in clear plastic wrap to protect it from moisture.
Wrap the painting in special foam wrap to protect the canvas against dents.
Use two layers of cardboard of the appropriate size and sandwich the painting between them to protect it against banging and dropping.
Wrap the sandwiched painting in bubble wrap for the utmost protection in transit.
Use brown paper as the last layer of wrapping to protect the packaging from dirt.
Take a sturdy cardboard box, place the painting inside, and fill in the gaps with cushioning material.
Consider ordering a custom wooden crate if your painting is very expensive or valuable and requires the highest level of protection during transportation.
Now that you know how to ship paintings like a pro, you are ready to pack almost any piece of art for its long-distance transportation. However, do not forget that you can always contact Fine Art Shippers for any packing and shipping help you need!