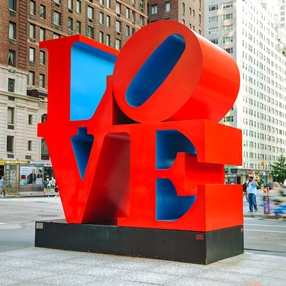 Valentine's Day is here, with all its shades of pink and red. This special day of the year is filled with love, passion, and romance visible everywhere around us. This is especially true for almost all kinds of art that can be found in New York or any other city on the map. After all, love has long been the main source of inspiration for artists, designers, architects, photographers, and other creative people.
As a professional fine art shipping company in NYC, Fine Art Shippers has been providing national and international artwork transport services for 20+ years. Over this time, we have seen numerous works of art with beautiful love stories behind them, and each of them is unique in its own way. To celebrate the most romantic day of the year, we have decided to pick out some of the best artworks inspired by love and to share this list with you. Enjoy!
Fine Art Shippers' Picks
1. LOVE sculpture, design by Robert Indiana

The renowned "LOVE" sculpture (pictured) is one of the most recognizable sculptures ever, with its many copies around the world, including New York City. It is interesting that the original design of this sculpture was created by American artist Robert Indiana for a Christmas card used by MoMA in 1965.
2. "The Lovers" by Rene Magritte
At Fine Art Shippers, we highly recommend that you visit MoMa to see this incredible Surrealism oil painting with your own eyes. Created by the renowned Belgian artist Rene Magritte in 1928, it still raises many philosophical questions.
3. "The Kiss" by Auguste Rodin
Auguste Rodin's "The Kiss" is one of the most famous sculptures and also one of the most popular images of sexual love in the world of art. So once you are in Paris, take your time to visit the Musee Rodin in order to see this marble masterpiece from the late 19th century.
4. "The Birth of Venus" by Sandro Botticelli
Inspired by an ancient Homeric poem, "The Birth of Venus" by Sandro Botticelli is definitely one of the best and most recognizable works of art ever. Painted in the mid-1480s, this amazing Renaissance piece is all about love, fertility, and feminine beauty. It is currently kept in the Uffizi Gallery in Florence, Italy.
Happy Valentine's Day from Fine Art Shippers! Let this romantic day be filled with unforgettable memories, love, and passion!