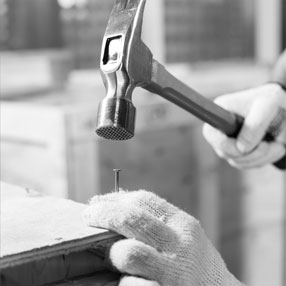 Fine Art Shippers are known not only for local and international art shipping services, but also for making the finest quality custom crates able to provide safe transportation for any artwork. Our professional packing and crating services include all types of secure crates for large sculptures, paintings, architectural models, antiques, and other fragile and valuable objects. Utilizing the most sophisticated materials and quality construction practices for fabricating and wrapping, our custom crates are built to provide maximum protection while being competitive in price. Moreover, even though we recommend our clients to opt for the most secure crates, our talented crate makers are always ready to suggest more economic solutions to fit your budget. Whatever you choose, you are guaranteed to get a high-quality, user-friendly crate that is easy to repack and unpack! Each step of our crate making process is well-thought-out and tailored to suit the needs and requirements of each particular customer.
A conscientious, clean process
Our crating workshop is equipped with the latest air filtration system that ensures a dust-free, well-kept environment.
Quality materials
Whether it comes to paintings or large sculptures, each crate is created to protect the artwork during its storage or transportation. Moreover, we use only high-quality packing supplies and materials for the better protection of the transported object.
A variety of custom crates
Here is only a short list of custom crates you can order from Fine Art Shippers:
museum crates;
travel crates;
travel frames;
international two-way crates;
multi-use standard crates;
butterfly storage crates;
HD crates;
simple collar packs;
economy crates;
slate crates;
simple boxes.
High-grade construction
Whether you need an economy crate, a museum crate, or an international two-way crate, Fine Art Shippers will ensure it is built according to the highest quality standards. Smooth and safe artwork transportation and art handling are our top priority.
Customer satisfaction
Each and every crate provided by Fine Art Shippers is computer designed to meet both, the customer's preferences and the object's needs. Our professional designers and crate makers do their best to deliver the result you are waiting for. Besides, all our custom crates are competitively priced to suit any budget.
Any object, any deadline
There is no too challenging work for Fine Art Shippers. With 25+ years of experience in art transportation, packing, and crating, we can prepare any piece of fine art for shipping – no matter its size, weight, and value – even within a very short period of time.
In general, at Fine Art Shippers, we can offer you any service you need for artwork transportation. Whether it comes to the whole art collection or a single outdoor sculpture, our talented team of fine art handlers, crate makers, and art movers is always ready to help. Call us now for any further information!