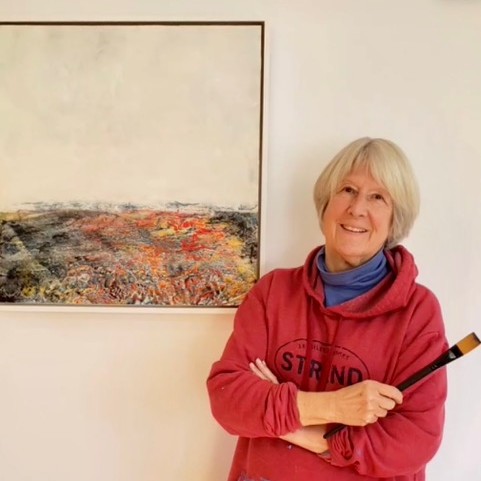 In her art, Wo Schiffman combines natural science and philosophy. Her abstract paintings are rooted in her deep understanding of the physical and metaphysical processes of our world.
Fine Art Shippers spoke with Wo Schiffman about how to introduce sustainability into contemporary art practices and art logistics.
Artist Talk: Wo Schiffman on Sustainable Art Practice and Art Logistics
Your art practice is inspired by land and sea explorations from the Arctic Circle to the Great Barrier Reef. What personal discoveries have you made while studying these natural phenomena and how is this reflected in your art?
Wo Schiffman: One of the things that have shaped my art practice and my overall outlook on life and experience as a human being is the understanding that we are a water planet. My parents, who were scientists, studied fossil environments and geologic events, so as a young child, I realized that life evolved when the planet had enough water. As an adult, I have sailed and cruised in many of the endangered areas of the planet including: the Arctic Circle, Tierra del Fuego, Polynesia, Great Barrier Reef, and across the Pacific Ocean from California to Hawaii. Traveling has changed the way I look at the world and had a dramatic impact on the things I believe are important to communicate to people through my art. In addition, this year I published the first book called Water Poems. This is the first in a six-book series exploring key natural elements to our survival on our plane through art. By drawing attention to the vulnerability of our natural resources, I hope to contribute to our growing awareness of vanishing natural resources.
This year I was in an exhibition at the Marin Contemporary Museum of Art called "What is Art for?" – It's a very good question for artists to ask themselves. What do you have to say? What are you doing in your community? It's wonderful to paint beautiful pictures, but I also believe that each of us can contribute to positive change through our art. Choosing to create art that assists in raising awareness of critical issues has a long history.
As the daughter of NASA scientists, how do you think the artistic and scientific exploration of the world complement each other?
Science and Art are closely related. Science tries to explore and explain the world through a macro lens that scientists adjust to achieve clarity. Art can offer other perspectives and insights into non-material aspects of life. I firmly believe that understanding the planet is a product of art and science. To me, their synergy is a way to help our community see things they may not think about in their busy lives. Ultimately, we come together through Art and Science, not just to survive, but to enhance our human experience.
There is a lot of discussion in the art industry about sustainability and how the art world can become more environmentally friendly. With all the exhibitions, biennials, and art fairs taking place worldwide, there is a lot of logistics and travel involved that impacts the environment. What do you think can be done to make the art industry more sustainable?
There are several levels on which we can make our industry more sustainable, each with its own sphere of influence. The first is our personal art practice and how it impacts our home, health, and local environment. For many years, artists were unaware of the environmental impact of the materials they used. For example, oil paints made with mineral spirits pollute not only the water and soil, but also the air. I make most of my paints using ground mineral and botanical pigments. I use mainly walnut oil with ground pigments to make my oil paints: no mineral spirits or binders. Therefore, there is no waste, not even when cleaning the brushes. Today there are more sources of information on making environmentally friendly art. One of my favorite books is "The New Oil Painting" by Kimberly Brooks.
The second opportunity is through teaching. Today, there are many artists who give workshops at local colleges or community centers. In this way, they can contribute to the promotion of sustainable art practices and raise awareness affecting their own community and all the communities that their students influence. For example, by doing simple things like teaching environmentally sensitive methods of cleaning up a teacher can strongly influence the impact an art practice has on the local environment. Most people don't know that you don't have to wash out acrylic paints in a sink. Instead, you can keep a bucket of sand and use a minimal amount of water to clean a brush and collect the residual paint. Over time, the water evaporates and the bucket will last for five years with no need to pour plastics down the drain! 
The third level has to do with exhibitions and our carbon footprint across the planet. There are several ways to improve sustainability as the world arts community grows. One is to develop effective methods to exhibit art in a virtual way. When it comes to buying artwork to exhibit at home, NFTs are a promising avenue. In the future, it's very possible collectors will be able to download an NFT of any artwork they buy and put it on special LED screens that resemble framed art in their house without having to spend extra fuel units to transport the art back and forth. This significantly affects traffic and intercontinental carbon fuel use. As this option becomes more prevalent, homes could even have built-in consoles on walls to support multiple NFTs.
So those are just three pillars that we can work on responsibly as artists to change the way people appreciate and share art and protect our environment.
But if the artworks still have to be physically transported – what do you think are the most sustainable ways to do that?
That's a very interesting question. One of the things that I like about Fine Art Shippers is how they have approached the problem on the West and East Coasts in America: they shuttle as many pieces as possible in one truck or one car on a recurring schedule. This means their schedule managing is critical to allow all the artists to effectively move their work across the continent.
In addition, we need to develop electric or other environmentally friendly ways of transporting art across the country. However, the biggest environmental problem, of course, is the cross-continental art transportation, which is now done by ship or air, and neither is very good for the environment. Finding a way to change that would be a significant environmental breakthrough.
You are a long-time client of ours. Can you tell us more about your experience with Fine Art Shippers? What do you value most about our service?
My experience has always been positive. Whenever I need to ship art, I call you. There are so many things you do very well. First of all, you have done an incredibly good job of making sure my art arrives or comes back to me in good condition. This extra care builds trust. The second element is the on-time delivery. You understand that a gallery or an art show has a specific delivery date and cannot accept it if it arrives early or late. That's a big deal because you are paying for the art to get there. And if it does not get there on time, it's not going to be in the exhibition. On top of that, you are so good at communication. I always know when you are going to arrive. That's important to me because here on the West Coast I am in a big commercial studio building that closes at five on weekdays and is not open to the public on weekends. With you, that does not bother me at all because Ilya calls and schedules the arrival time. Then, I can open the door, and the art will be delivered or picked up on time. With this kind of communication, you are way ahead of all other consignors.
As a recommendation for someone who wants to buy your art – what is the best way to display it? 
My art is a little different from the average painting.  There is a lot of flexibility in displaying my work, because of the nature of the pigments and materials I use. Since I make my paints using natural materials and ground pigments, they do not fade in normal household environments and are more robust in higher humidity. So, it does not matter if my paintings are hung in a room with direct sunlight or in a bathroom with high humidity. I have also been exploring bioluminescent particles in my pigments. The colors in a painting with these particles fades gently when the lights in a room are turned off. Similar to watching a sunset at twilight, the effect is very peaceful. In these times of high stress and hesitancy to travel, this calming effect offers another way for art to enhance the home life experience and reduce anxiety.
Photo courtesy of Wo Schiffman