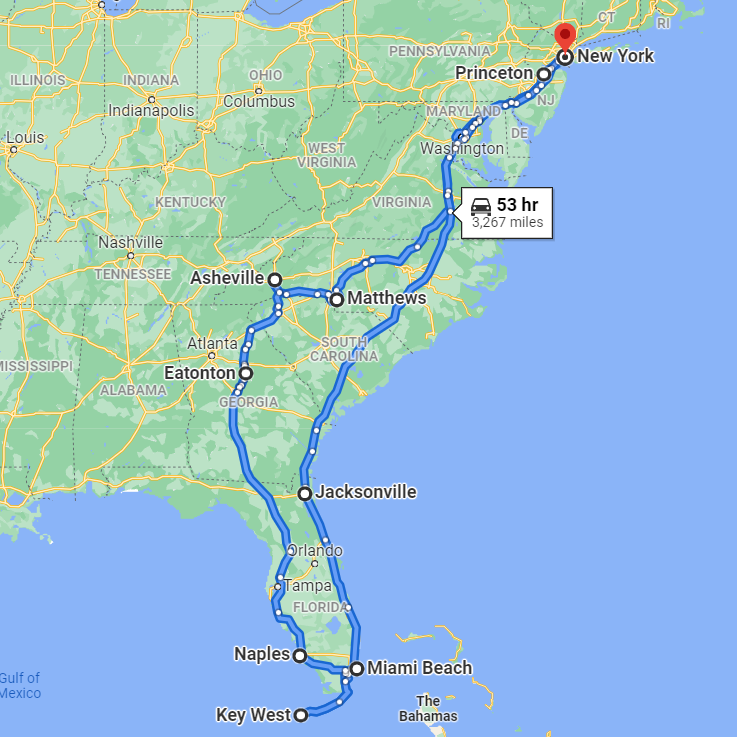 Florida is one of the most popular destinations of our cross-country art shuttles, and we at Fine Art Shippers are always ready to offer our professional help to everyone in the Sunshine State and beyond. We are happy to share the amazing news that our consolidated art shuttle New York – Florida will leave on October 11. Our team will be picking up and delivering fine art and antiques throughout the East Coast of the US. Now, let's take a closer look at the route.
Art Shuttle New York – Florida
On October 11, the truck will leave New York City and head straight to New Jersey. There, we will have stops in three cities of the state: Newark, New Vernon, and Princeton. Once the job is complete, our team will make its way to Florida. Before reaching the state, we will have a long road through North Carolina and Georgia where we will also have stops for picking up art. If you live somewhere in between and need art shipping services, please make sure to contact us beforehand so we have time to make adjustments to our art shuttle New York – Florida.
In Florida, Fine Art Shippers will spend several days picking up and delivering art all around the state. We will particularly focus on Sarasota and Naples on the west coast of Florida, Key West in the Florida Keys, Miami and all the nearby cities, and finally Jacksonville. After leaving Florida, our shuttle will go back to New York City. On the way home, we will also be able to make a stop in Philadelphia, Pennsylvania. The Big Apple will be the endpoint of the art shuttle New York – Florida.
If you have any questions or want to join the shuttle, you can contact our team at info@fineartshippers.com or request a free shipping quote online right now. We will be glad to provide you with all the necessary information about the route and answer your questions. Fine Art Shippers can guarantee your peace of mind and the safety of your valuable items in transit.