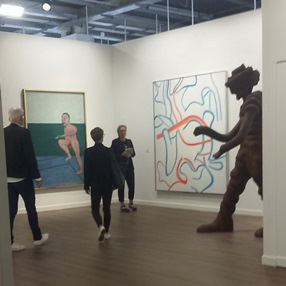 Fine Art Shippers is a family-owned business based in New York City. However, it does not mean that we provide our services only within the Tri-State Area. As professional shippers of fine art with more than two decades of experience, we successfully operate both across the country and internationally. Moreover, our services are not limited to only handling and shipping fine art. In fact, Fine Art Shippers offers a variety of art-related services, including art advisory and art installation services of any kind. In this blog post, we want to tell you more about each of these services we are so proud to offer in New York, Miami, London, Berlin, Moscow, Hong Kong, and other cities across the globe.
Art installation services
As you know, Fine Art Shippers works with many American and international galleries and auction houses. We pack, crate, and ship art and antiques for them on an ongoing basis. Plus, we also provide art business professionals and private clients with comprehensive art installation services, both indoor and outdoor. Moreover, our ability to set up exhibitions and install art in galleries, private homes, and at art fairs has made Fine Art Shippers a preferred company for many. For example, our team works with Shapiro Auctions, setting up all pre-sale exhibitions for them, and we also help galleries organize their booths at different art shows and fairs around the world. What is no less important, our art installation services are reasonably priced to make them accessible to everyone.
Art advisory services
In addition to our art installation services, Fine Art Shippers also offers a variety of art advisory services, helping collectors and connoisseurs choose the right art pieces for their collections. Besides, we consult gallerists and artists on how to organize and secure the gallery space, as well as help them get prepared for different art shows and events happening throughout the year. It is also worth noting that our art advisory services include the complete analysis of the current art market, so we can always recommend our clients the best art pieces and the best art galleries in almost any city in the world, and we can also help emerging and inspiring artists reach the maximum exposure possible.
Whether you need professional art advisory or art installation services, please do not hesitate to contact our team! Plus, you can always request a free shipping quote for any item you need to move right on this website!