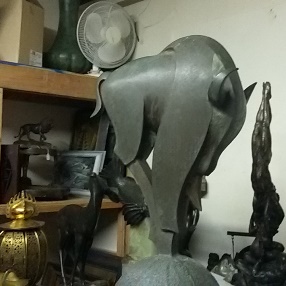 Determining the value of an antique is a complicated process that requires certain knowledge and experience. Moreover, this applies not only to jewelry and vintage furniture, but to family heirlooms too. In fact, if you want to sell any of them, expert help from professional appraisers and antique moving companies is a must-have!
Fine art shipping is who we are and what we do at Fine Art Shippers. However, we not only pack, crate, and move collectible and valuable items. Our team of specialist fine art handlers also offers a variety of other services, including art installation and temporary storage. Plus, we can check and verify artworks and antiques prior to the start of the auction sale. Furthermore, our extensive experience allows us to provide our clients with an accurate independent condition report for any item they are going to sell. Thereby, if you want to get top dollar for your valuables, the best you can do is hire Fine Art Shippers as your agent and preferred art shipping company in New York or elsewhere.
However, even though there are many factors to consider when determining the value of an antique, with several proven tips and a little effort, you can learn to do it on your own. While it won't be an expert appraisal, it will help you decide how much a certain item is really worth. You can start the valuation process with the following steps:
Use a loupe to find any designer's or manufacturer marks and stamps.
Consider the item's condition. All cracks, chips, tears, and missing components matter.
Try to find out whether you antique is unique or not.
Verify the item's history and look for any documents confirming its provenance.
Take into consideration the demand side as not all antiques are actually valuable.
Make sure your item is authentic and not a fake.
Carefully examine it for any repairs and restoration works.
If your antique is damaged or broken, check whether it has salvage value.
Find out the current market price of similar items.
Consult experienced collectors, dealers, and antique moving companies regarding your piece.
All of the above tips can help you determine how much your antique is worth. However, if you want to sell it for top dollar, you will still need help from a professional appraiser or trustworthy fine art shipping companies. Call us now for any additional information!