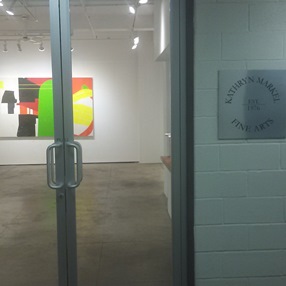 Fine art shipping in NYC is a serious business. After all, the Big Apple is the art capital of the world, with a thousand galleries offering art for any taste. Besides, New York is also home to many talented contemporary artists living and working in this incredible city. At Fine Art Shippers, we are very happy to be part of this amazing world, providing our comprehensive art logistics services to businesses and individuals, with a focus on fine art shipping in NYC and across the Tri-State Area. Besides, we do enjoy visiting various art events and galleries where we can get acquainted with the latest art trends. For example, some of the best pieces of contemporary American abstract art can be found at Kathryn Markel Fine Arts in Chelsea.
Kathryn Markel Fine Arts
Kathryn Markel Fine Arts was founded in 1976 and since then has been helping collectors find the best artworks by mid-career and emerging American artists. The gallery specializes in paintings and works on paper, with an emphasis on abstraction and abstracted landscape. For today, Kathryn Markel Fine Arts has two beautiful spaces in NYC and Bridgehampton, NY, each offering an exceptional selection of contemporary American art, including works by such talented artists as Lisa Breslow, Lorene Anderson, Tracey Adams, and Sarah Irvin.
Fine art shipping in NYC is a serious business that requires experience and knowledge. However, it is also very interesting and inspiring, especially when dealing with such reputable galleries as Kathryn Markel Fine Arts!