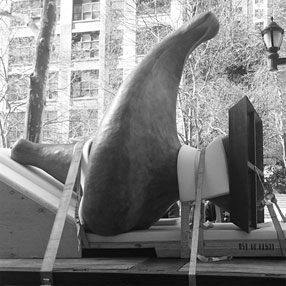 Dealing with artwork and objects of value for 20+ years, Fine Art Shippers have all the required knowledge, skills, and equipment to provide you with any shipping option you need. From international art shipping to local and interstate antique furniture moving, our highly qualified team offers only professional services, with strong attention to detail and focus on individual approach to each and every client. The outstanding care for all your items is guaranteed! Here are just a few reasons why you should choose Fine Art Shippers as a reliable art shipping company:
Decades of art shipping experience
We have been working with valuable paintings, decorative fine art objects, large sculptures, antique furniture, and other works of art since 1995. Our customers include private art collectors, renowned art dealers, artists, galleries, and museums not only in the US but throughout the world. Therefore, whether you need shipping solutions for your family art collection, fine art furniture, or even a large outdoor sculpture, we can handle this job from start to finish and make sure your valuable possessions get to their destination safe and sound.
International art shipping
Although Fine Art Shippers mainly specialize in artwork transportation and handling, we can also assist you with customs brokerage. Our reliable partner freight forwarders can easily provide you with the whole package of customs broker services. Moreover, we guarantee to meet your budget and deadline.
Art installation
We deal not only with small art pieces, paintings, and figurines but also with huge art installations displayed in museums and galleries across the US and internationally. We are constantly engaged in moving the entire art collections and large art pieces from New York to Miami, from the US to Russia, etc. Whatever your destination, we have an affordable and safe solution for you!
We can ship anything
No matter the size and shape of your artwork, we can ship it from and to any city or country you need while providing the utmost level of customer service and attentiveness to every little detail. In particular, here you can order shipping services for:
small and large sculptures;
art glass and metal;
framed and unframed paintings;
artifact and antique pieces;
ceramics and pottery;
fine art furniture;
concert grand piano;
private art collections;
gallery collections;
art installation;
museum exhibitions.
In this way, whether you want to ship valuable paintings between New York and Los Angeles or need to get an outdoor sculpture safely from the US to an exhibition in Europe, Fine Art Shippers can help you with that quickly, efficiently, and affordably.
We are a reliable art shipping company that offers professional assistance with artwork transportation and handling, packing and crating, art storing, and more. You can rely on us with any shipping problem you have. Fine Art Shippers are always ready to help!