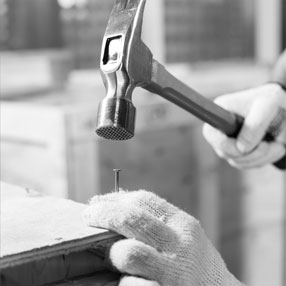 Storing empty crates may seem profitable. Well, maybe this is true, in some cases. Museum crates and custom crates, even those that have been already used, are valuable, and sometimes we store them indeed. It may be a good option for the customer who needs a crate of a certain size. We can pluck one right out of our inventory, re-fit the foam interior if necessary, spruce it up a bit, and eventually sell it again. In such a case, the customer will get a reduced rate, and everyone will be happy. However, it so rarely happens that we try not to store empty or used custom crates without a special reason. Let's see why.
First of all, it's not economical. The fact is that secure crates are always built to accommodate a particular fine art object. In this way, in order to fit a small artwork into the already existing crate that may be larger in size, we should strip away old materials, re-do the interior, add new foam, remove old labeling, cover outdated stenciling, and so on. Moreover, the crate's "feet" and other wood elements often require reinforcement or replacement. As a result, such works involve new materials and consequently increase the overall cost of crating services. What's more, customers have to pay higher art shipping rates for a larger crate than they actually require. After all, who likes to see wasted space within the crate? Thereby, in most cases, building a new crate is truly a better deal for the customer, especially when it comes to the expense in materials and time to refit one of the existing crates, not to mention fine art shipping costs.
Secondly, a rebuilt crate is out of the question, if you need to ship art installation pieces, large sculptures, or other dimensional objects. Such artworks require custom crates with special interior and supports that should be properly designed and fabricated, as well as secured in the crate to hold each element of the object in place. To make the same work with the existing crate is rather complicated and, in addition, takes much more time. Lastly, there is always a quality issue with empty crates, especially those that have been already used more than once or just stored for a long time. Let's not forget about shipping stresses that can work loose formerly tight screws, joints, seams, and gaskets. Moreover, glued elements may come unglued, and wood may dry out over time. In this way, storing empty crates may seem profitable but, as you can see, it is not always true.
However, there are exceptions to every rule. In this case, it concerns high-end museum crates that can be stored for a long time. It makes economic sense, for example, for art collectors and specific artworks in their collections that have to be shipped from time to time. Thus, it is better to store such a crate rather than build a new one. Anyway, before shipping, even the most expensive and high-quality crate is carefully inspected to replace all the elements that have degraded. Safety comes first!