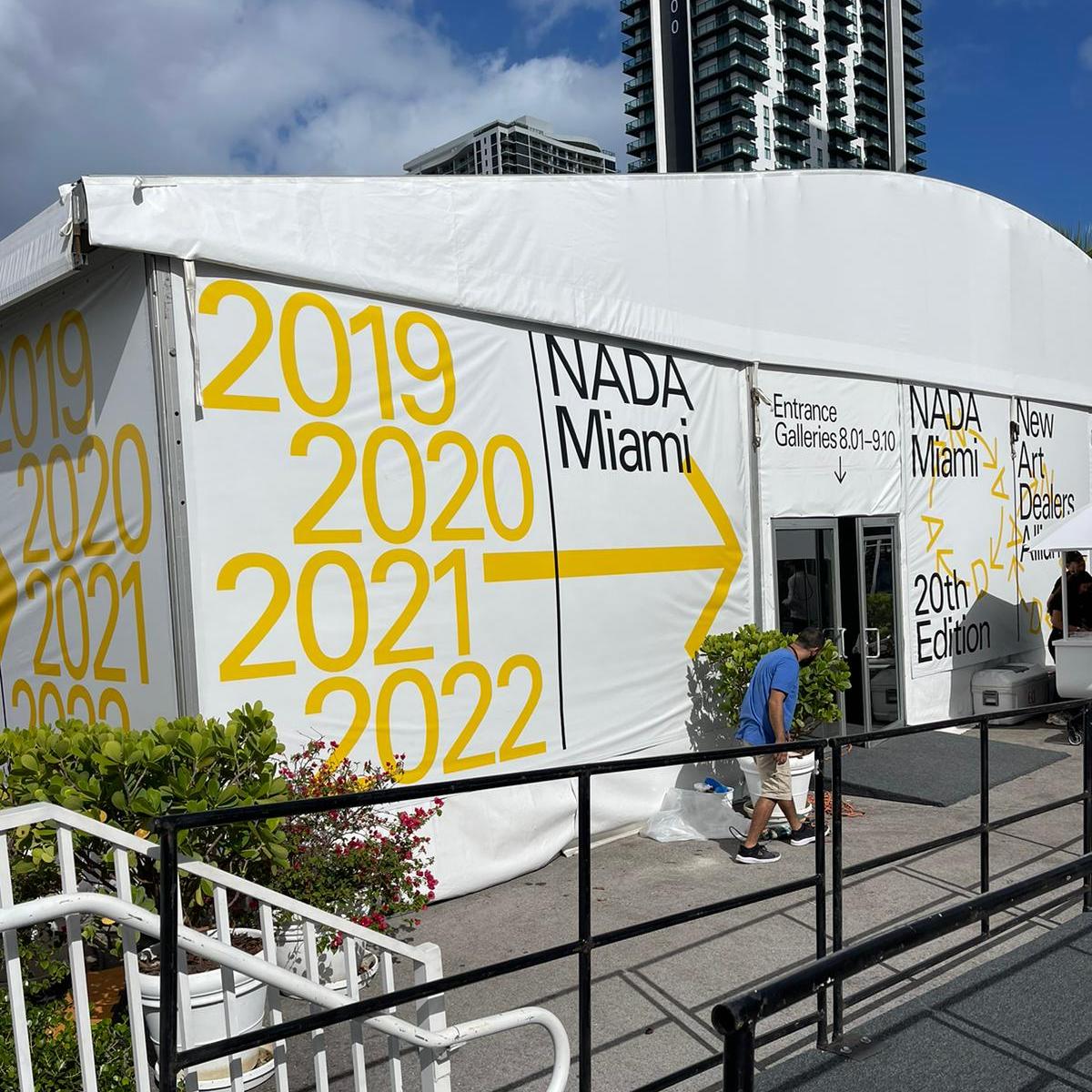 Art Basel Miami Beach was not the only art fair that celebrated its 20th anniversary. Another important show of the Miami Art Week, NADA Miami (New Art Dealers Alliance), also launched its 20th edition, which took place on November 30 – December 3 at Ice Palace Studios. The venue was packed with collectors and dealers who craved to see the presentations from 146 galleries. Even though the sales were not comparable to six and seven-figure prices of other big events, it had its unique charm that motivated many people to invest in art without further ado.
At Fine Art Shippers, we visited NADA Miami 2022 in the role of passionate enthusiasts who were happy to be part of the celebration and witness truly enchanting artworks by so many talented emerging artists. Here are some highlights you will want to see!
The 20th Edition of NADA Miami 2022
The majority of galleries represented at the fair were from the US, and still, many of them came to Miami from abroad. Those included ALMA from Riga, Artbeat from Tbilisi, MISAKO & ROSEN and Yutaka Kikutake Gallery from Tokyo, Sans titre and Galerie Derouillon from Paris, and many others. Most of them focused on paintings and installations, but there were also other mediums. For example, the Tokyo gallery WAITINGROOM featured a series of video artworks, Patel Brown presented some textiles, and Jupiter Contemporary had quite an interesting selection of found objects.
The showcase couldn't be possible without the heavy political context. Nina Levent, a Kharkiv-born curator at Sapar Contemporary, introduced a series of photographs by the Ukrainian artist Zinaida. The presentation aimed to show people processing the trauma of Russia's invasion of Ukraine through the image of the folklore character.
The Uniqueness of NADA Miami
Accessibility is what makes the art fair so attractive for many collectors, especially those who don't want to spend hundreds of thousands or even millions of dollars for just one piece. At NADA Miami, you can find a variety of high-quality artworks made by mid-career and emerging artists. It is also a great way to connect with others to feel a sense of the community. So, the prestige thing goes into the background while the atmosphere and interaction come forth.
We were delighted to visit the show and see what artists have to offer in 2022. In case you weren't at the event, make sure to grab a moment and go to NADA New York 2023, which is scheduled for May 18-21, 2023.