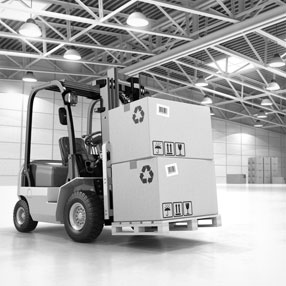 Packaging of artworks for the transportation is not just a mere formality. What's more, a properly selected package ensures a safety of transported objects, including the most fragile items. One of its types is usually called a softpack. So what does it mean? First of all, it is definitely not a rigid container or a crate. In most cases, "to be softpacked" means to be wrapped with something, and this "something" may appear to be any material that people can only come up with. Working in the sphere of art shipping for more than 20 years, we constantly face the fact that when our customers talk about already softpacked artworks ready for local or even international transportation, they may mean the following:
– old, chewed, very used, and often too thin plastic sheeting draped over the framed artwork;
– an old flannel shirt or just a piece of cloth used for wrapping, which additionally can be taped for "more security;"
– cardboard corners used for framed paintings while the front and back sides of the artwork stay entirely naked;
– previously used gift tissue paper (beautiful, but senselessly);
– dry cleaning poly bags or even dirty flimsy plastic bags used for wrapping.
These were only a few perfect examples of human imagination. Each of them is certainly notable, but definitely not practical and safe for the artworks!
However, for the sake of fairness, it should be said that not all "civilian" creations look so inadequate.  Quite often, the softpack made by our customers themselves is serviceable and rather good for shipping. Nonetheless, it still depends on the mode of transport. Thereby, let's just say that there is no a completely approved standard for "softpacking." Each fine art object has its own level of fragility, size, material, condition, and value so that you won't find a single solution for all of them. That is actually the main reason to entrust this work to the experienced shipping company like Fine Art Shippers!
Now let's see what softpacking means for professionals. If we talk about a painting, one of the best decisions is to use a special slipcase made from cut to size sheets of cardboard in order to surround the artwork completely on all its sides. However, first of all, the artwork should be wrapped with a moisture barrier and only then packed into this kind of custom cardboard boxes. Finally, it should be taped and labeled with specific markings for proper handling and correct orientation. For today, we can offer our clients a great variety of reliable slipcases that may differ according to the contents. Thus, you may choose the following options:
– a double-wall cardboard for more protection;
– a pack with the foam lining along its bottom, used for protection of heavy items;
– glasskin taping (a kind of masking tape distinguished by easily removable adhesive) to be used over the real glass to avoid any damage;
– archival packaging material  or  glassine to wrap the artwork itself;
– special boxes for air circulation and many others.
As you can see, a softpack can mean absolutely anything, and, in fact, it often does. So if you need a rigid pack for the object with special needs, it's better to call Fine Art Shippers for professional help!