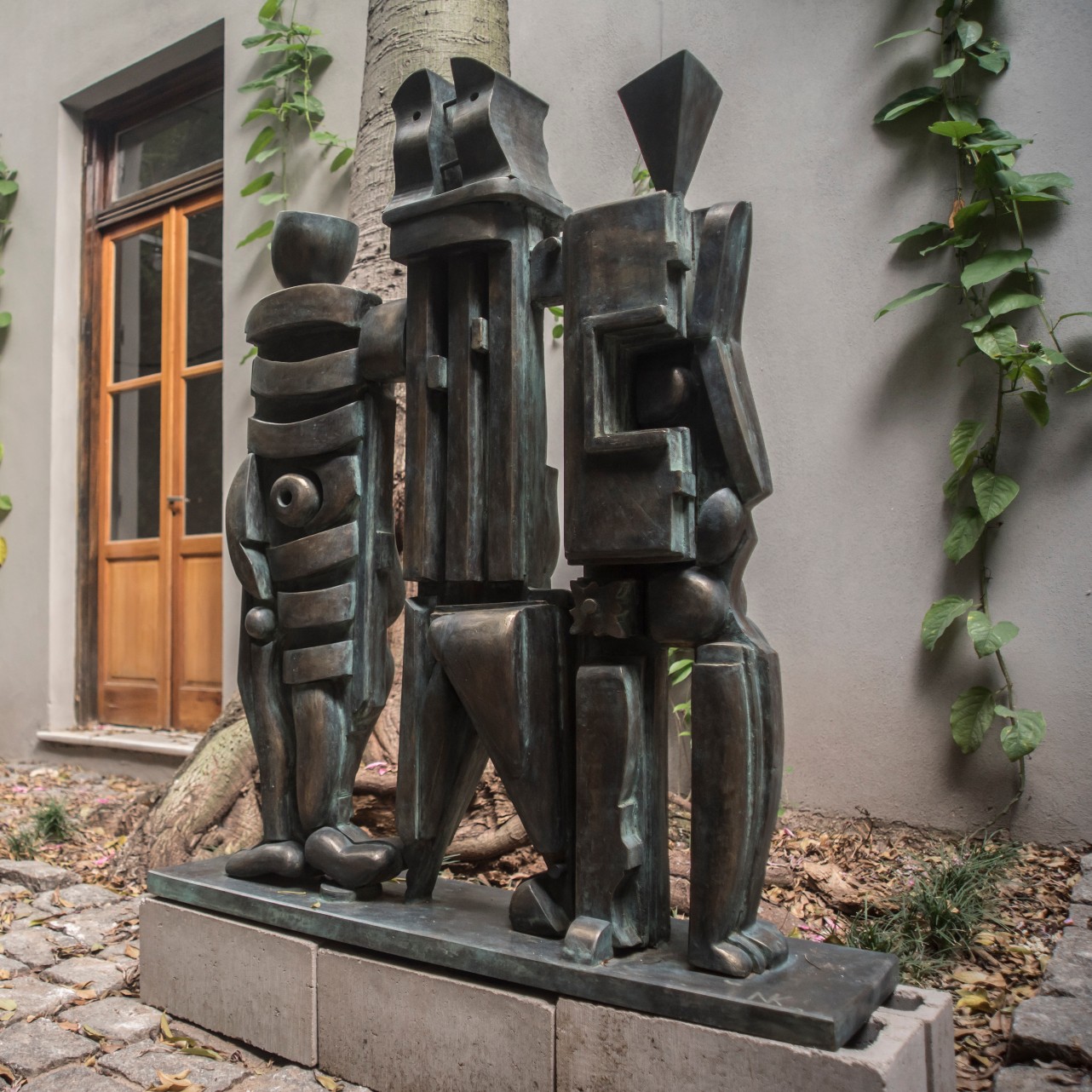 Naum Knop was an outstanding 20th-century sculptor whose art has been widely recognized in his homeland Argentina and worldwide. Drawing inspiration from modernist art, he developed his unique, immediately recognizable style. 
Fine Art Shippers has had the pleasure of interviewing his son Pablo Knop, a co-founder of the Naum Knop Foundation and the artist's house museum in Buenos Aires. Pablo shared his memories of his father and the story of the foundation's establishment. 
Naum Knop Foundation: Preserving the Memory of a Prominent Sculptor
Can you share some personal memories of growing up in an artistic family like yours? 
Pablo Knop: My father, Naum Knop, was a sculptor and my mother, whose name was Fanny Palacios, was a philosopher. Growing up, I was surrounded by intellectuals and art lovers who frequently visited my father's studio. As a child, I had the opportunity to attend my father's exhibits, which was not a typical experience for children my age. This was during the 1960s when my father gained recognition, both in Argentina and internationally. My father's workshop and exhibition spaces were integral parts of my daily life. My brother and I often spent time in his workshop, where he worked with wood and marble. We enjoyed playing with these materials and various tools and helping our father with his work. Overall, we spent our childhood in a very stimulating environment and were fortunate to have unique intellectual, emotional, and physical experiences.
Can you briefly outline some key pages in Naum Knop's artistic biography?
Growing up, he spent much of his time in his father's carpentry workshop. At the age of 17, he enrolled in an art school in Buenos Aires where he studied for five years under the tutelage of renowned sculptors who were inspired by modernist European artists such as Henry Moore, Jacques Lipchitz, Constantin Brâncuși, Hans Arp, and others. In 1947, he traveled to the United States where he attended an art school in Beverly Hills and later exhibited his work in Los Angeles. Over the next three years, he continued to travel across the United States and Europe, meeting artists from various backgrounds and studying their works.
In the early 1950s, he achieved his first success as an artist. Between 1956 and 1964, he participated in major national and municipal awards in Argentina, winning several. In the early 1970s, he moved to a larger workshop in downtown Buenos Aires, which is now his house museum. He started casting pieces in bronze, and his success with the bronze direct wax technique and his style soon became widely recognized. Around this time, he also incorporated simple machinery, such as a large saw, to carve out pieces of wood for his artwork. Throughout the decade, he continued to create and exhibit his work in galleries and his studio. In the 1980s, he returned to the US to exhibit in Los Angeles, Washington, and New York.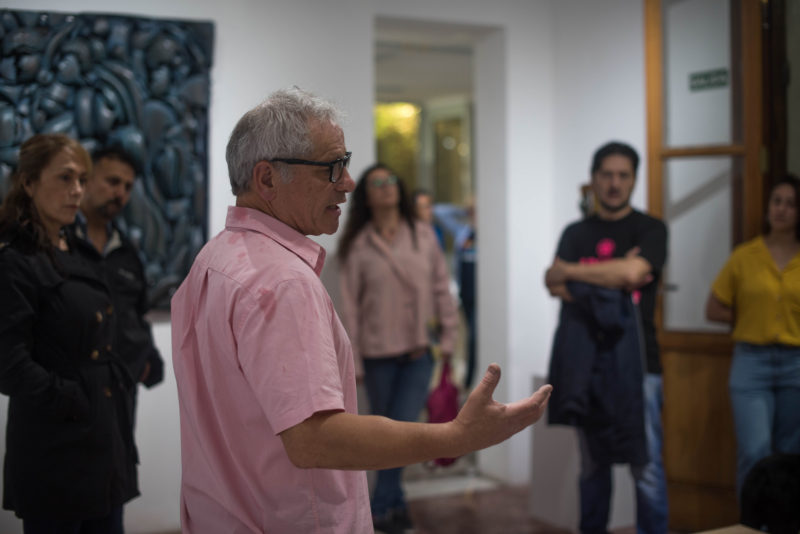 Alongside sculptures, Naum Knop's legacy also includes drawings. How important were they to him?
In addition to being a skilled sculptor, he possessed excellent drawing skills. In the 1960s, he created drawings that later inspired his sculptures. However, he continued to draw for pleasure throughout his life. In the 1980s, when he was unable to work on sculptures due to a lack of a workshop in the United States, he channeled his creativity into drawing and eventually published a book entirely dedicated to his drawings. Four books have documented his work, each focusing on his work from a different decade. One of these books is solely dedicated to his drawings.
I am pleased to see the public's appreciation of my father's drawings today. In September 2022, a collector from Argentina and I participated in an art exhibition in New York that exclusively showcased his drawings. I displayed a selection of ten drawings, and the response was overwhelmingly positive. This event was a valuable learning experience for us, as we had mainly focused on his sculptures since his passing in 1993. Witnessing visitors express their admiration for his graphics was rewarding and inspiring and prompted us to adjust the direction of our research and preservation efforts.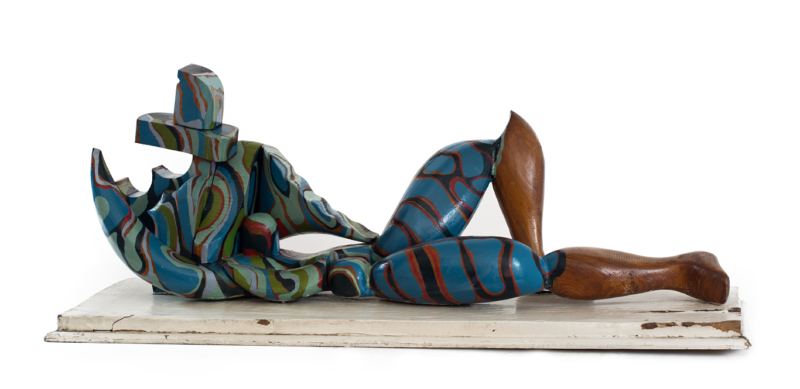 How extensive is Naum Knop's legacy? Can you provide an estimate?
According to our records, he created approximately 1,200 sculptures and an equivalent number of drawings, totaling around 2,400 pieces. We have possession of about one-third of this collection, while the remaining pieces are scattered throughout Argentina, the US, and Europe.
Could you talk about the establishment of the Naum Knop Foundation and the house museum? How did they come about?
After my father passed away in 1993, my brother and I took on the management of his legacy. For six years, we collaborated with art historians, hosted exhibitions, and restored artwork, which eventually led to the establishment of the Naum Knop Foundation in 1999. That same year, we participated in an art fair in Buenos Aires to showcase our institution, and it was a great success: we attracted the attention of the art community and the public.
In 2000, I moved to New York to expand our reach, and in 2010, I returned to Buenos Aires to improve our facilities and reopen my father's former workshop and home as the Naum Knop's House Museum in April 2019. Despite the challenges posed by the COVID-19 pandemic, we resumed exhibitions and art activities in 2021. Our program for 2023 includes three exhibitions that will feature my father's art alongside the work of contemporary artists.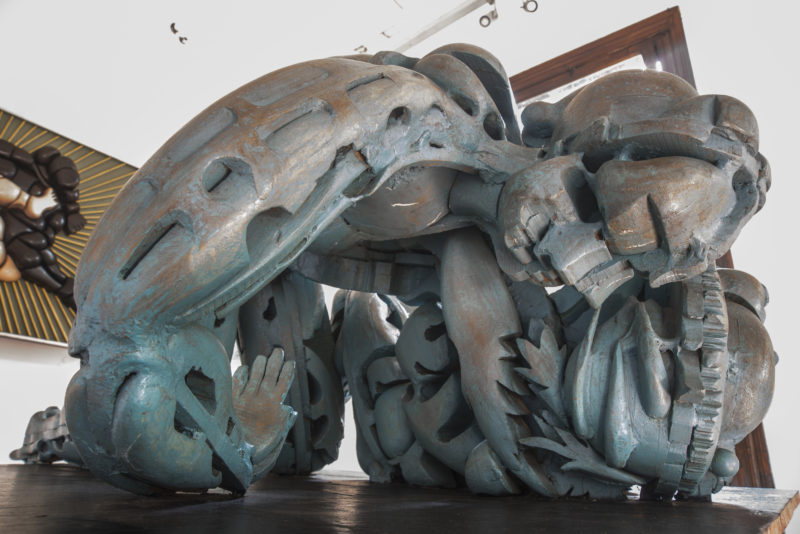 Do you engage in collaborations with other art institutions, and if so, what is your approach to partnerships?
My brother and I have created a branch of the Naum Knop  Foundation in Switzerland, and we are currently exploring the possibility of establishing an artist exchange program between institutions in Switzerland and Argentina. 
How do you see the evolution of the foundation and the house museum? 
I have dedicated the past thirty years to this project. Five years ago, I decided to retire from my career and focus entirely on the foundation. I will continue working on it for as long as I am able. I want the next generation of researchers, art enthusiasts, collectors, galleries, and museums to see a much more organized and efficient institution than the one we founded three decades ago. My motive for embarking on this project was not to satisfy my ego but to establish an institution that would benefit the public. I believe that Naum Knop's legacy will last for generations to come.
Interview by Inna Logunova 
Photo courtesy of Naum Knop Foundation