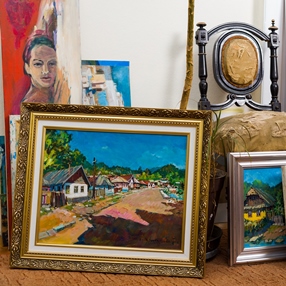 Needless to say that to pack and ship a large painting is a challenging task that comes with its own hazards. After all, if you want the artwork to be delivered intact, you need to consider its medium, size, and current condition, whether it is framed with glass or not, and other important criteria. Thereby, it is always a wise idea to entrust this job to experienced shippers of fine art, especially when it comes to the relocation of valuable and expensive pieces. However, in case ordering a professional fine art delivery service is not your option for any reason, you need to learn how to ship paintings safely yourself. Here are several proven tips from Fine Art Shippers!
How to ship paintings safely on your own?
Before we give you several recommendations on how to ship paintings safely on your own, let us remind you that since there are no two similar artworks, there are no two similar methods of packing and transportation so that the following tips won't suit every situation and every piece of art.
Use new, high-quality packing materials to prevent possible damage to your art during transit. In most cases, you will need acid-free paper, bubble wrap, packing peanuts, and a sturdy cardboard box.
Always take detailed pictures of the artwork at every stage of the packing process. It is required for insurance purposes.
If your painting is framed with glass, remove the glass and pack it separately. If it is not possible, carefully tape the glass with blue painter's tape.
Wrap the artwork in acid-free paper that does not stick to the surface of the painting or react to the paint. You can additionally wrap the framed painting in brown Kraft paper.
Use bubble wrap for wrapping the entire piece. It will provide padding between the painting and the box.
Take two sheets of cardboard, which are a bit wider and longer than your artwork, and "sandwich" it between them.
Choose a cardboard box of the appropriate size and place your wrapping inside. Fill in the gaps with packing peanuts or another cushioning material.
Seal the box with pressure sensitive packing tape and label it with special fine art shipping labels.
Now that you know how to ship paintings safely, you can provide more protection to your artwork in transit. However, if you have any doubts, do not risk and order professional art packing services from a trustworthy company. Fine Art Shippers is always at your disposal!