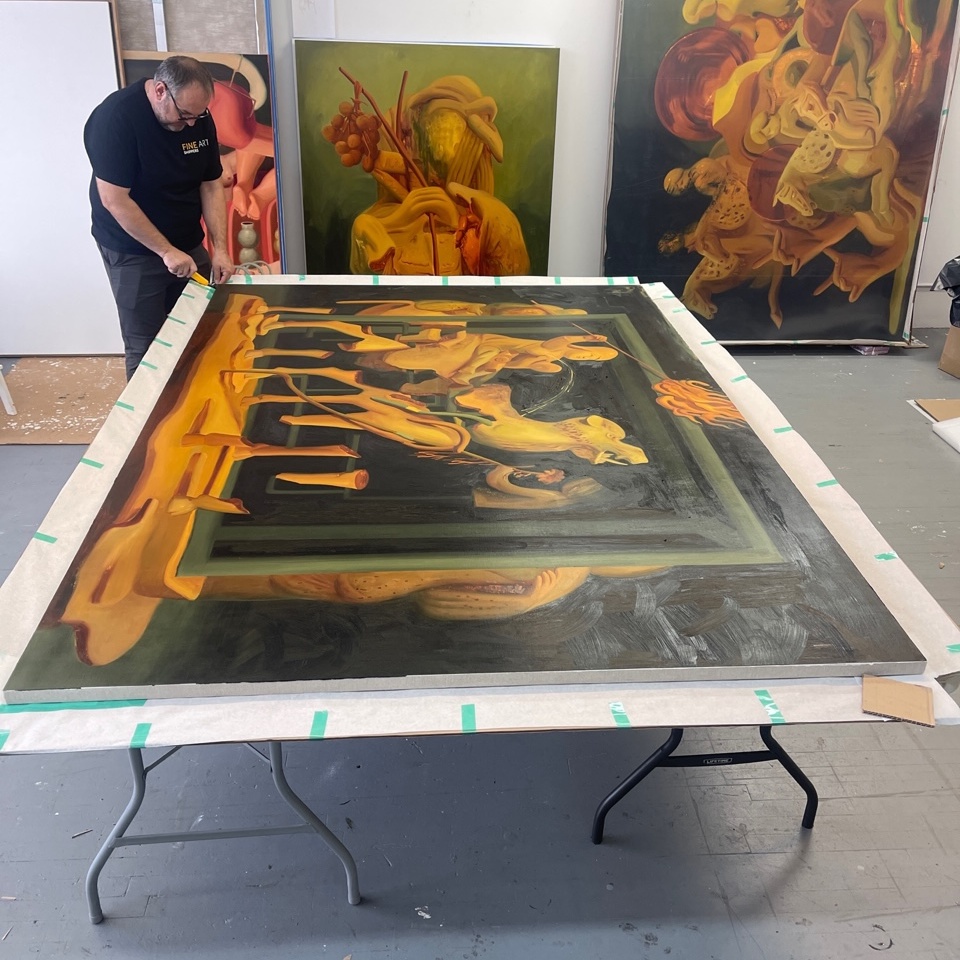 Headquartered in Manhattan and Brooklyn, Fine Art Shippers stands at the intersection of international transportation lanes and has access to almost any part of the world. That's why our services are effective not only in the US but all across the globe. Recently, we delivered a series of artworks by the internationally recognized artist Dominique Fung. Our team packed and shipped the large-scale canvases from Nicodim Gallery, New York, to our client in Beijing, China. If you wonder how to ship paintings by famous artists overseas, then welcome on board!
What You Should Know About Dominique Fung
Dominique Fung (b. 1987) is a Canadian-born Brooklyn-based artist who now lives and works in the Big Apple. The painter earned a Bachelor of Applied Arts from Sheridan College in the west-Greater Toronto Area, Ontario, Canada. She is mostly known for her complex surrealistic paintings depicting a variety of objects, such as porcelain items, animals, plants, and human bodies – all with altered shapes. One of the messages that Dominique Fung wants to deliver through the intriguing aesthetics of her art is the criticism of the objectification and exotification of Asian women by the Western world. It also concerns the whole perspective that people of the West have been actively adopting for many years. That's the world you see in the artist's works.
When we get a chance to ship paintings by famous artists such as Dominique Fung, we experience the imagery of the canvases we handle. It was an intense pleasure for Fine Art Shippers to make sure that such important artworks would safely make it to our client in Beijing.
How to Ship Paintings by Famous Artists to China in 2022
If you need a professional art shipping company to ship paintings by famous artists to China in 2022, our time- and distance-tested services will be right up your alley. We will pack and pick up the artworks in the US and then put them in our custom-built museum crates designed for the transportation of the most fragile items. Beijing, Shanghai, Guangzhou, Shenzhen, and other cities in mainland China are all potential destinations where we can ship art.
Transporting art from the US to China takes time and effort. Accordingly, you will want dedicated experts to tackle the task to a tee. That's where Fine Art Shippers and its services come in handy. With us, everything will go as smoothly as possible. Contact us to get further details about the cooperation.