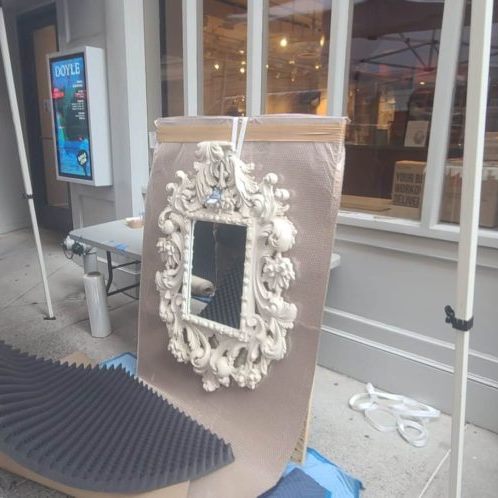 Mirrors are a perfect piece to freshen up your living space. They come in all shapes, sizes, and even colors. You can also find mirrors in any price range, be it in a dollar store or an antique shop. One inevitable disadvantage of mirrors is their fragility. They can crack easily even when they are just hanging on a wall. But when it comes to shipping a mirror, everything becomes a hundred times more confusing. Lucky for you, Fine Art Shippers is always ready to share insight into the meticulous art of transporting fragile objects. To learn how to ship a mirror (and avoid heaps of misfortune brought by a broken one, according to old tales), keep on reading!
How to Ship a Mirror Safely
Packaging is key
Packaging is arguably the most significant part of any shipping process. When dealing with something as fragile as a mirror, you have to treat the issue of protection very seriously.
Before safely wrapping a mirror and putting it away in a box, you should tape up the glass area of the mirror. Cross it over with painter's tape a few times to secure it within its frame and to prevent the glass shatters from falling into the box if the mirror does crack.
A perfectly packaged mirror will have a layer of bubble wrap or something equally cushioning wrapped around it. Adding another protective layer on top of the first one is advised — you could use foam, towels, or something soft to further ensure the safety of the mirror.
Then comes, of course, the box made from thick cardboard that will not dent during transportation. We suggest that you get a box that is a couple of inches wider than your mirror so that you can stuff the box with additional cushioning materials. And do not forget to properly label your box: a mirror should be always standing vertically during transportation.
Consider insurance
Among the most popular questions about how to ship a mirror is the issue of damage compensation. Art insurance is something that will help you cover the costs of the damaged piece. Keep in mind that some insurance companies might refuse to cover glass items. However, Fine Art Shippers' trustworthy partners provide all kinds of insurance, including glass-based item coverage. With something as breakable as a mirror, it is something worth thinking about.
Fine Art Shippers is always happy to consult you on how to ship a mirror and what steps to take to ensure that your art and antiques arrive at their destination in prime condition.