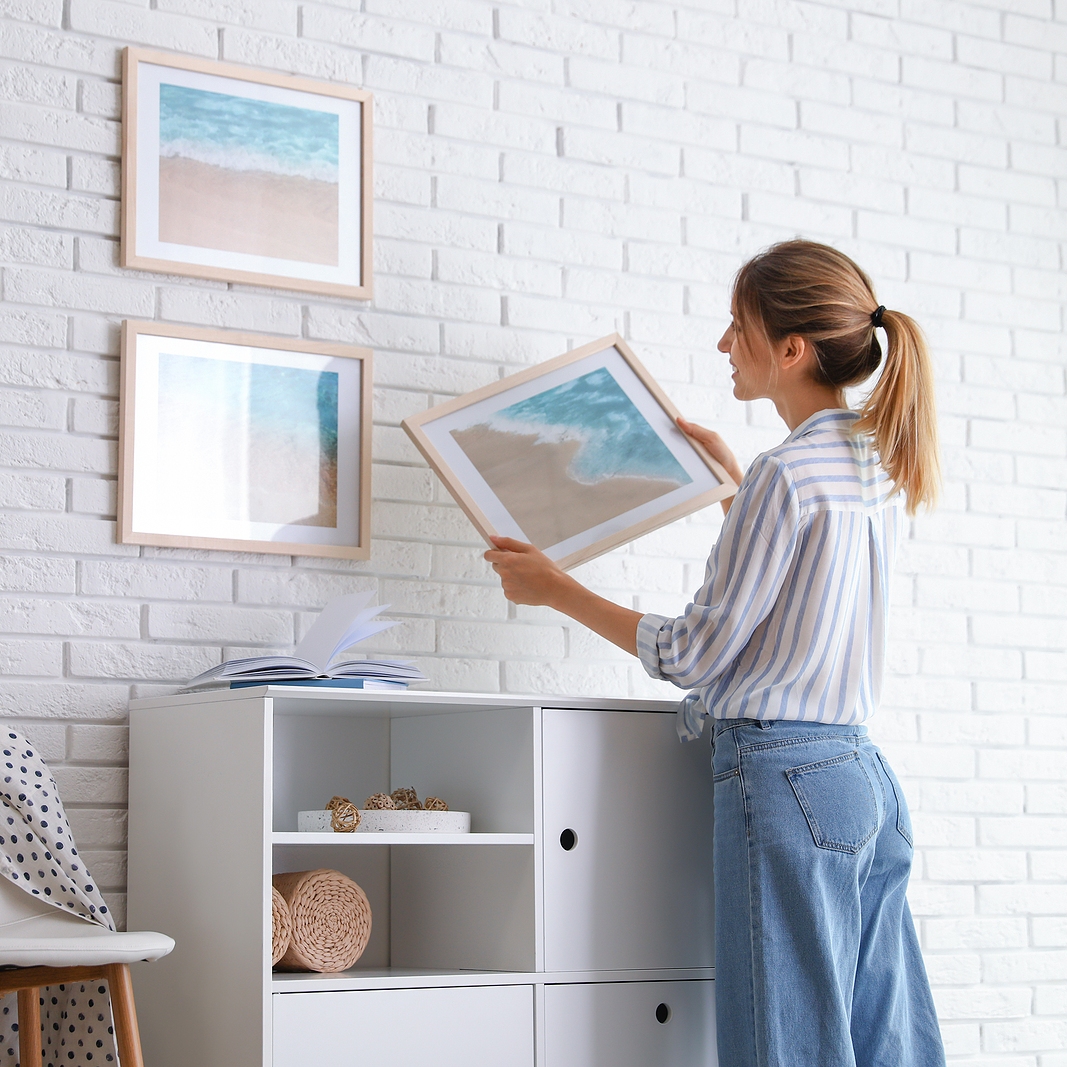 Any collection of modern wall art deserves to be displayed. So let us give you some advice on how to arrange your artworks at home!
Symmetry is crucial
Proper art hanging is crucial if you want to create a peaceful, soothing atmosphere at home. The secret lies in symmetry. You can achieve it by choosing paintings that are identical in size, have a common color scheme or the same frames. Arrange your art collection along hallways or above large pieces of furniture, such as tables and sofas. Focal walls also work well.
Rotating art collection
In case you have more fine art pieces than space to display them in a proper way, the best thing you can do is install special picture rails and set up a simple rotating system. Try to place picture rails just below eye level to provide your fine art pieces with an excellent height for viewing. If you want to create a more dynamic display, place smaller objects in front of the larger ones, and don't forget to change out your artworks regularly to keep your home exhibition eye-catching and fresh.
Eclectic art collection
If your collection of modern art consists of objects with different subject matter, varied styles and sizes, or unique frames, you do not necessarily need to separate them. The collection will actually benefit most if you display it grouped together rather than each object separately. So how to arrange such a collection? First of all, place the largest paintings and only then use the smaller ones to fill in the gaps. Try to keep the space between art pieces uniform and quite small to create a feeling of cohesion instead of scattering the art. Keep in mind that using real fine art pieces when trying to find the configuration you like is a bad idea. Cut out the templates from the kraft paper and move them around the wall to find out the most visually pleasing and balanced grouping. Don't forget about symmetry!
In fact, there are no strict rules on how to display and hang the art collection. Everything depends on the collection itself and available space. So search for ideas online or order professional interior design, art consultation, or picture hanging service! If you need any help, please do not hesitate to contact Fine Art Shippers!