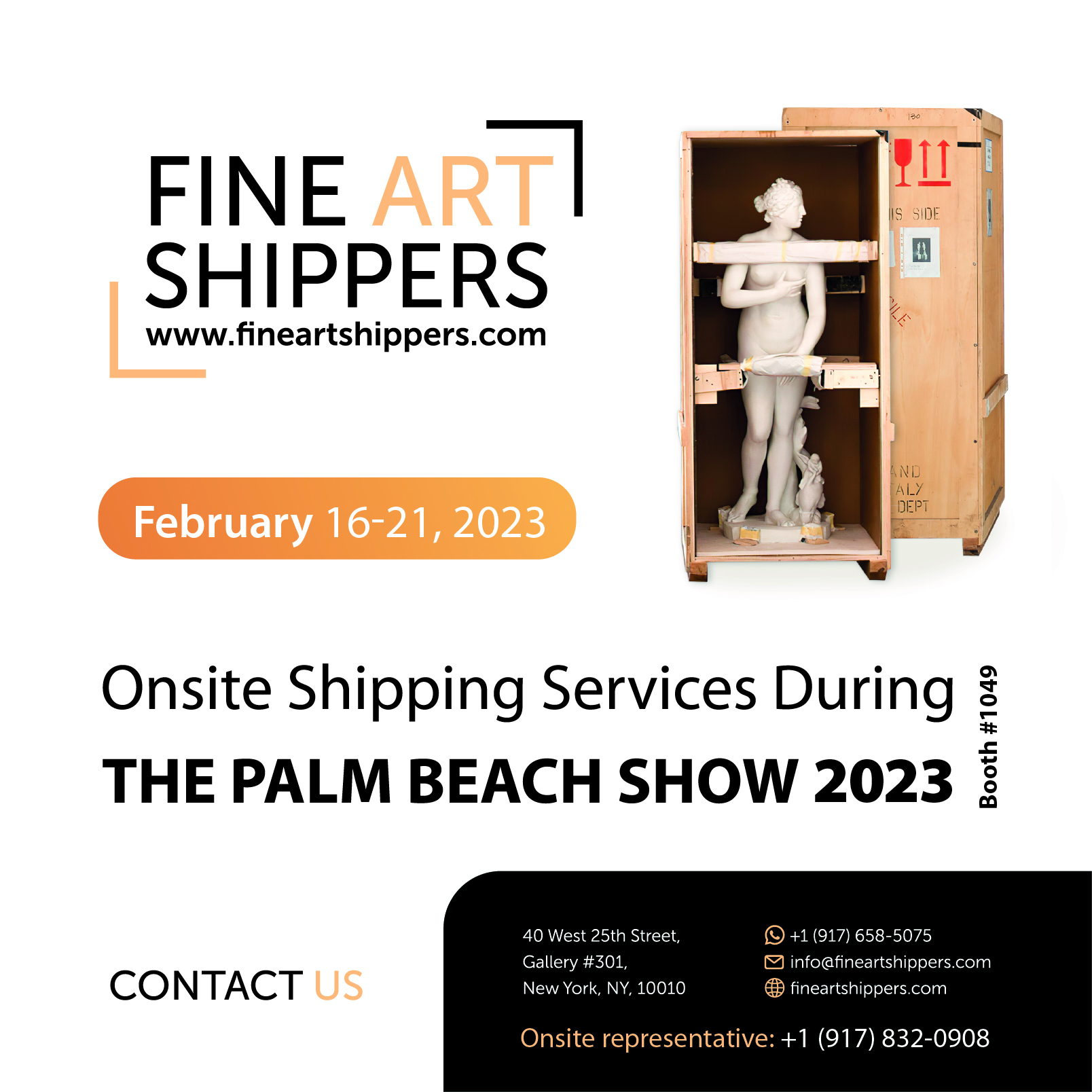 We are proud to announce that this February, Fine Art Shippers will be providing onsite art packing and shipping services at The Palm Beach Show 2023. As always, the renowned art fair will take place in West Palm Beach, one of the most vibrant art destinations on the East Coast. Fine Art Shippers had the honor of serving The Palm Beach Show participants last year, and we are beyond excited to continue our partnership in 2023.
Fine Art Shippers to Offer Onsite Services at the Palm Beach Show 2023
The Palm Beach Show is a truly remarkable event. It presents extraordinary works of art and craftsmanship at the Palm Beach County Convention Center every year. The selection of both local and international participants results in an extremely diverse exhibitor list. The Palm Beach Show is known for displaying one-of-a-kind artworks and antiques that range from fine art, jewelry, and luxury timepieces to antique furniture and high-end designer items. Such a variety of valuables attracts art dealers, gallery curators, collectors, and art lovers from around the world.
Apart from various artworks and antique pieces, the show will host lectures and presentations from art historians, contemporary artists, professional art dealers, and appraisers.
The Palm Beach Show 2023 will also add a new section, called Contemporary Focus, to its rich exhibition program. Its purpose will be to represent modern and contemporary works of art from well-known galleries. This section will include works of different genres and mediums, taking up a significant segment of the exhibition space.
The Fine Art Shippers team will be onsite at the Palm Beach County Convention Center throughout the Palm Beach Show 2023. We will be providing professional art shipping and packing services to the esteemed guests of the art fair, from start to finish. Our Booth #1049 will be open to all visitors who want to pack and ship their newly acquired pieces safely and quickly.
Fine Art Shippers takes pride in having worked with many amazing artists, collectors, galleries, museums, and auction houses in the US and around the globe. We are a fine art shipping company with decades of experience and numerous loyal clients, and we look forward to serving you at the show.
The Palm Beach Show 2023 will start on February 16 and will run until February 21, with its pavilions to be open to the general public from February 17. Please note that the Palm Beach Show approaches the question of the safety of its guests and exhibitors with utmost attention and care. For that reason, the visitors are urged to follow basic public health guidelines throughout their visit. Hopefully, we will see you at the show!