As the Miami Art Week has come to an end, Fine Art Shippers has more amazing pieces of news to share. Our company was the one to have helped the Californian gallery Speedy Gallery with the installation of art pieces in its booth at SCOPE Art Show, which took place on November 29 – December 4, 2022. There were quite a few artworks to be hung on the wall, so we had a lot of work to do. The installation went without any issues, and the booth was 100% ready for the upcoming presentation at the fair. Take time to learn more about the interesting gallery that we worked with and the challenges that installers often encounter in the process.
The Challenges of Installation for Art Shippers
While the hanging of paintings is usually done following the same scenario, there are some nuances to that process. First, when Fine Art Shippers accepts the task of assisting the gallery, museum, or artist, it treats every client and case individually. It all begins with the hardware and hanging systems that will be used for keeping artworks in place. It is essential, as different systems and approaches require a different amount of resources, mostly time and workforce.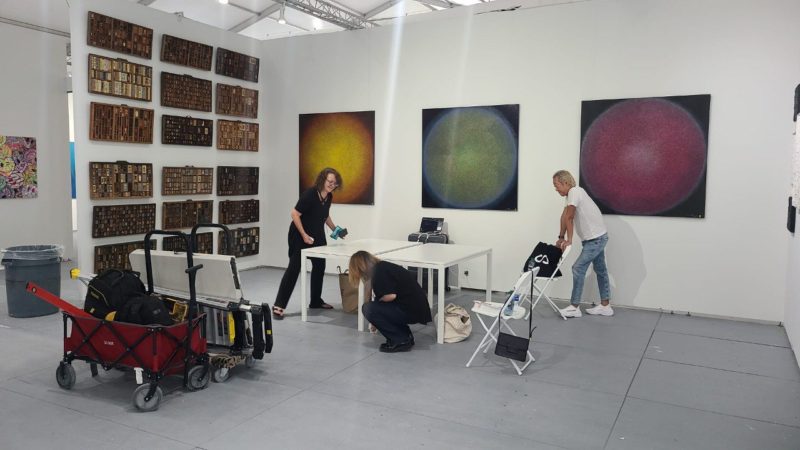 The whole installation process is essentially a combination of the customer's desires and needs and our professional expertise. To get the best result, Fine Art Shippers tries to communicate every detail beforehand. However, if someone says something like, "This needs to be hung there," we can complete a task without further ado. In some sense, it's more than just logistics because it incorporates design, aesthetics, and inner feelings. The entire process is a piece of art itself, and hanging canvases for Speedy Gallery was no exception to the rule.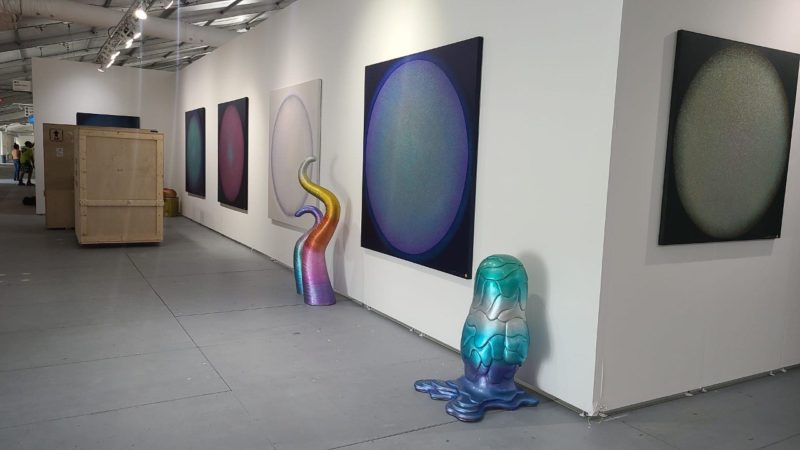 Speedy Gallery
Speedy Gallery is a contemporary art gallery based in Los Angeles. It opened its doors in 2019 to introduce inspiring and passionate emerging artists to the world. Through the promotion of art and sales, the gallery aims to benefit the local community in LA and make art more available to everyone in the world. At SCOPE, it represented four artists: Tae Hue, Kei Sugimoto, Tetsuya Tamai, and Moeko Maeda. Judging by the pieces we hung in the booth, each artist offers something singular and unparalleled, which made the presentation so exceptional. By the way, it was the largest booth at the show.
Fine Art Shippers was excited to work with Speedy Gallery and contributed to the success of its presentation. Let us know if you saw those amazing pieces too!