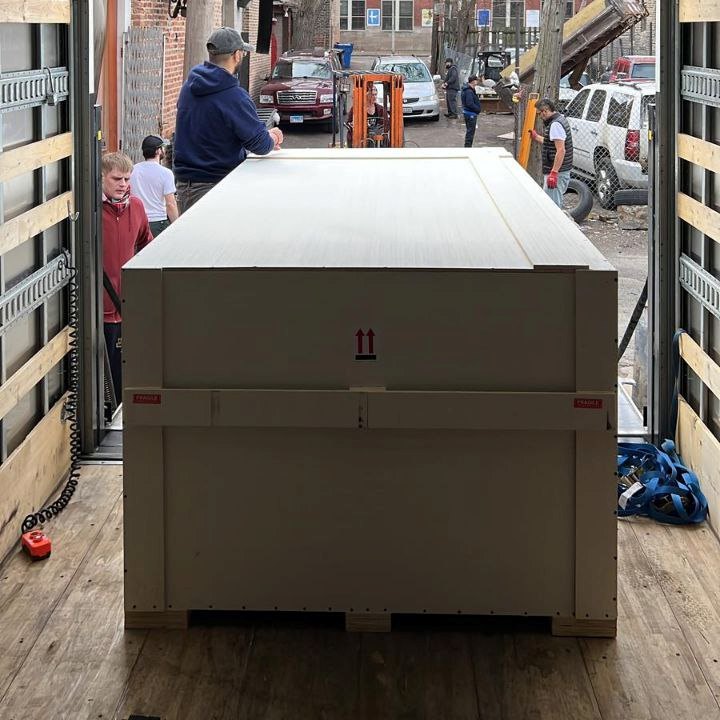 Fine Art Shippers is not new to transporting works of impressive size. An experienced team of art handlers and proper equipment allow us to provide professional artwork shipping services no matter the measurements and destination. We often work with art galleries and museums that are looking for a reliable way to transport their valuable collections. For example, we have just delivered large and heavy crates with paintings from Detroit, MI, to Chicago, IL, for the upcoming exhibition at Kavi Gupta. Keep reading to learn more about the gallery and our recent art shipping experience.
Artwork Shipping Services to Chicago: Kavi Gupta Experience
Kavi Gupta is a contemporary art gallery located at 835 W. Washington Blvd. in Chicago, IL. Well-versed in both the art world and business, the gallery's founder Kavi Gupta managed to apply his knowledge to create a space where creativity thrives. Gupta was born to a family of Indian immigrants who brought their appreciation and love of art to the US with them and made sure to pass it down to their son. Kavi Gupta currently has several gallery spaces, including two in Chicago, Illinois, and one in New Buffalo, Michigan. It also has a publishing house called Kavi Gupta Editions, which publishes works by art scholars, exhibition catalogs, and many more.
Kavi Gupta is a special place that prioritizes diversity and authenticity. Its main objective is to uplift the voices of marginalized communities and give them a platform to be seen and heard. The gallery aims to add a new chapter to the conversations around contemporary art by actively promoting emerging artists, hosting educational lectures, and publishing research.
Fine Art Shippers is extremely happy and proud to work with Kavi Gupta and provide the gallery with top-notch artwork shipping services. Last week, our team collected several large crates with paintings from two locations in Detroit. The next day, we successfully delivered them to Kavi Gupta in Chicago for the upcoming show.
We are always grateful for opportunities to hone our artwork shipping skills and to help amazing people who dedicate their lives to supporting important causes and promoting equality and diversity. If you are interested in enlisting our art logistics services, do not hesitate to reach out to us — our team is always ready to answer any questions you might have.