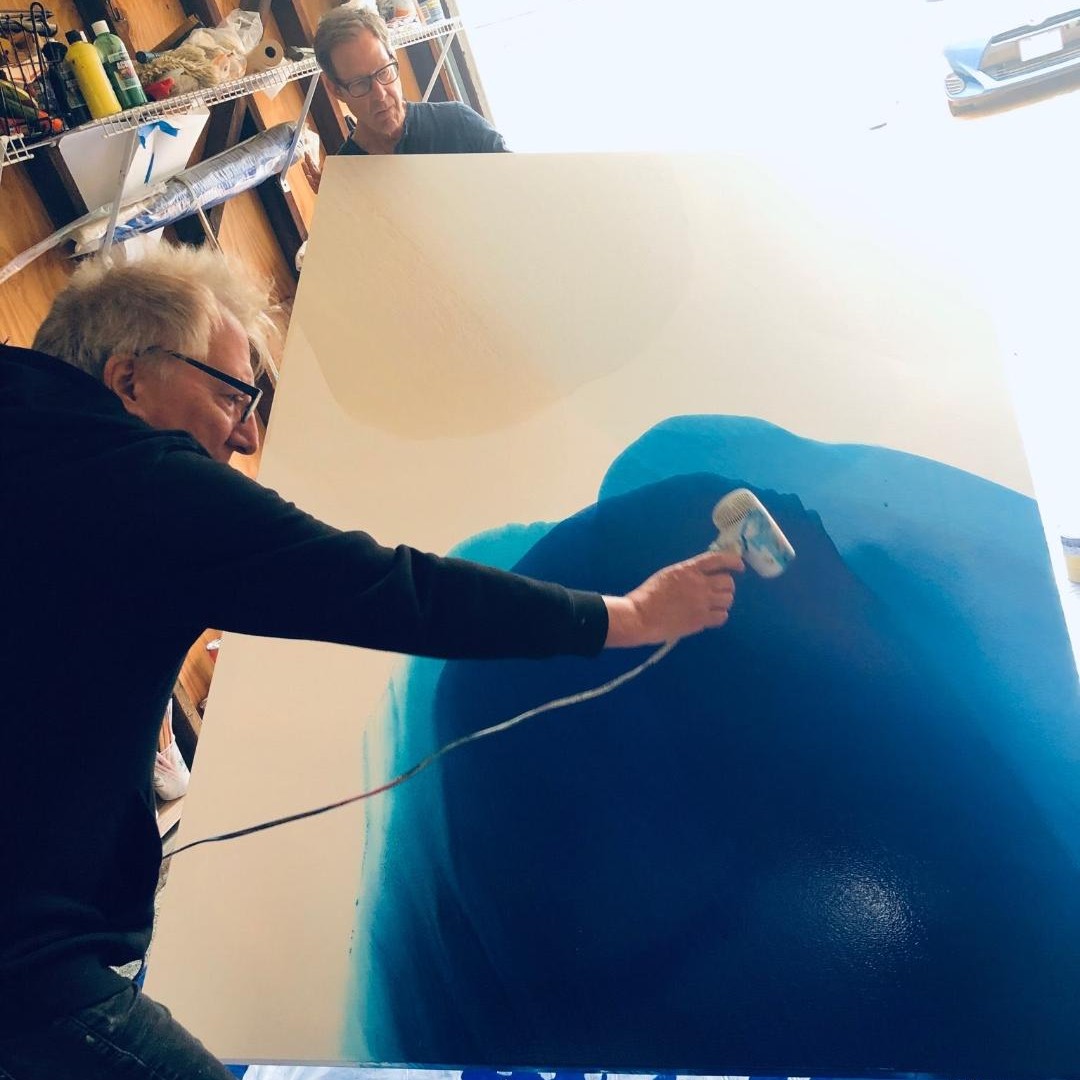 William Engel's works can be seen in Time Warner's corporate lobby and The William Hotel in New York City, Schering-Plough's office in New Jersey, the Grad Center at the New York School of Interior Design, and many other places. He teaches a course on color at the New York School of Interior Design and is the author of Portfolio Design for Interiors, a book he co-wrote with Harold Linton. Fine Art Shippers spoke with the artist about the painting technique he invented, inspiration, and interior design.
Artist Talk: William Engel on Pouring Painting Technique and Interior Design
You have a background in art, design, and architecture. How is that reflected in your paintings?
William Engel: Art school, architecture, and interior design helped me understand what painting is really about. It combines several aspects: the conceptual understanding of spaces on canvas, the emotions and ideas it conveys, and the way it interacts with the viewer, independently from the artist who created it. A lot of what I do in my work is more conceptual and abstract. Even when I paint real things like landscapes, they tend to be visualizations of my emotions and ideas rather than representations of the objects.
You have developed your own painting technique. What does it involve?
I pour paint on the canvas and layer it, sometimes working with twelve colors at once. I mix paints in a bowl and then use my body to get the shape I want. After the paint comes off the edge, I fix it on the canvas with a hair dryer. I use both oil and acrylic paints, depending on the texture I want to get. While acrylic paints are lighter and more translucent, oil is heavier and more saturated.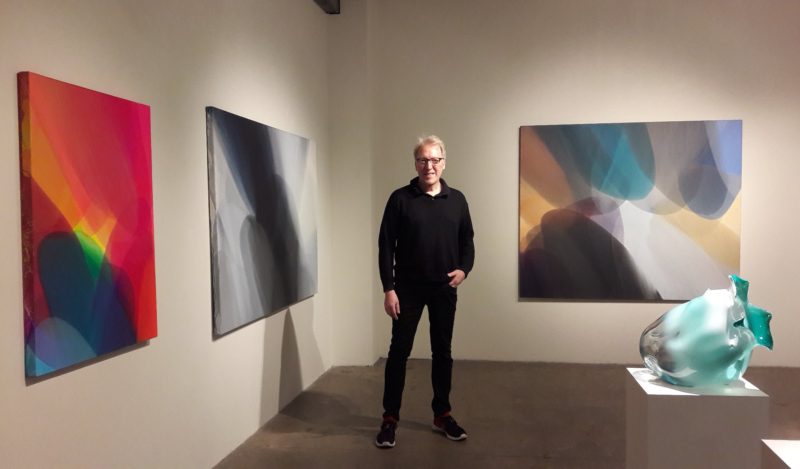 Are your paintings totally improvisational or do you make sketches?
When I work with clients, I do watercolors first so they can see the idea. But as Picasso said, color has a mind of its own and is stronger than the artist. When I start a painting, it eventually takes its own direction and you just have to keep going, no matter what the original concept was. You just have to listen to the painting and understand what it wants now.
You mentioned that you paint landscapes. Are these real-world or imaginary places?
I take inspiration from nature, my studio in California is near the water. In my paintings, I convey the feeling I have out here, the vision of air meeting land. I like to blend them and let people's minds take their own path, infusing the image with their memories and poetry. And indeed, I often hear people say, "Oh, that reminds me of something when I was young." It always surprises me how people react.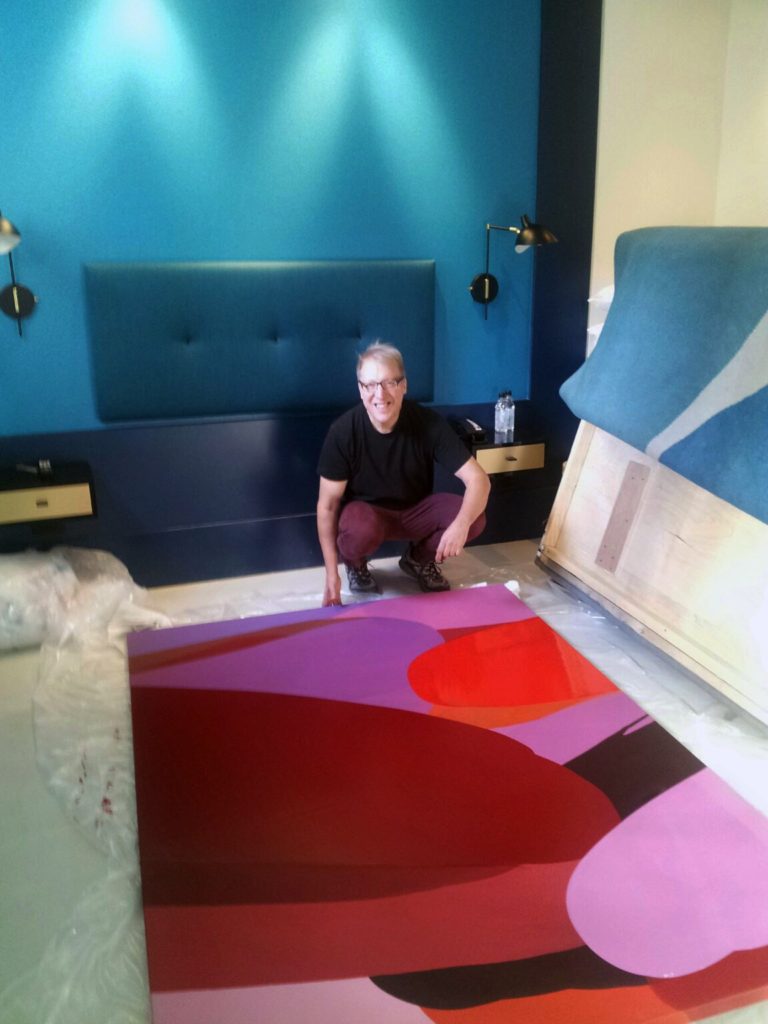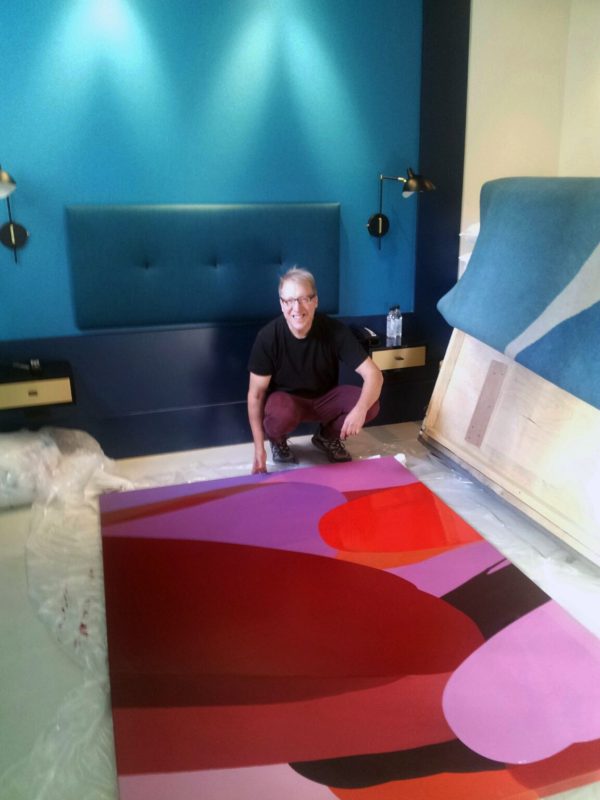 You have projects where art and interior design work together. How do you approach such commissions? How do you address the context of a specific space?
In such cases, it usually starts with a design idea. The designers know what I do and have an idea of how to handle my work in terms of the type of image, size, colors, and so on. So in the beginning, I have a set of conditions from the designer and the client and then I start experimenting with my technique to create an artwork for a particular site. Often I propose my own vision, as in the case of The William Hotel in Manhattan. I had the idea for seven paintings for each elevator lobby of the hotel, which I presented to the developer and got the green light. It was the first time I had worked hand-in-hand with a designer and an architect, with each of us having an equal say. The renovation project lasted two years, it was a great time, very intense.
As an artist, you have to ship your works all the time. What special requirements do your paintings have when it comes to transportation?
Since my paintings have several layers, it is extremely important that the artwork is not accidentally punctured. A tiny crack makes it unsellable. Every art shipper I have ever worked with has to be extremely sensitive, especially when it comes to oil. Acrylic is a little more forgiving as it is more rubbery and does not crack. I must say that my experience with Fine Art Shippers has always been impeccable. They take incredible care of every detail and take extra steps whenever needed. They make sure things go the way you want them to, And they are genuinely nice people, which makes such a big difference. I just love the company.
Photo courtesy of William Engel