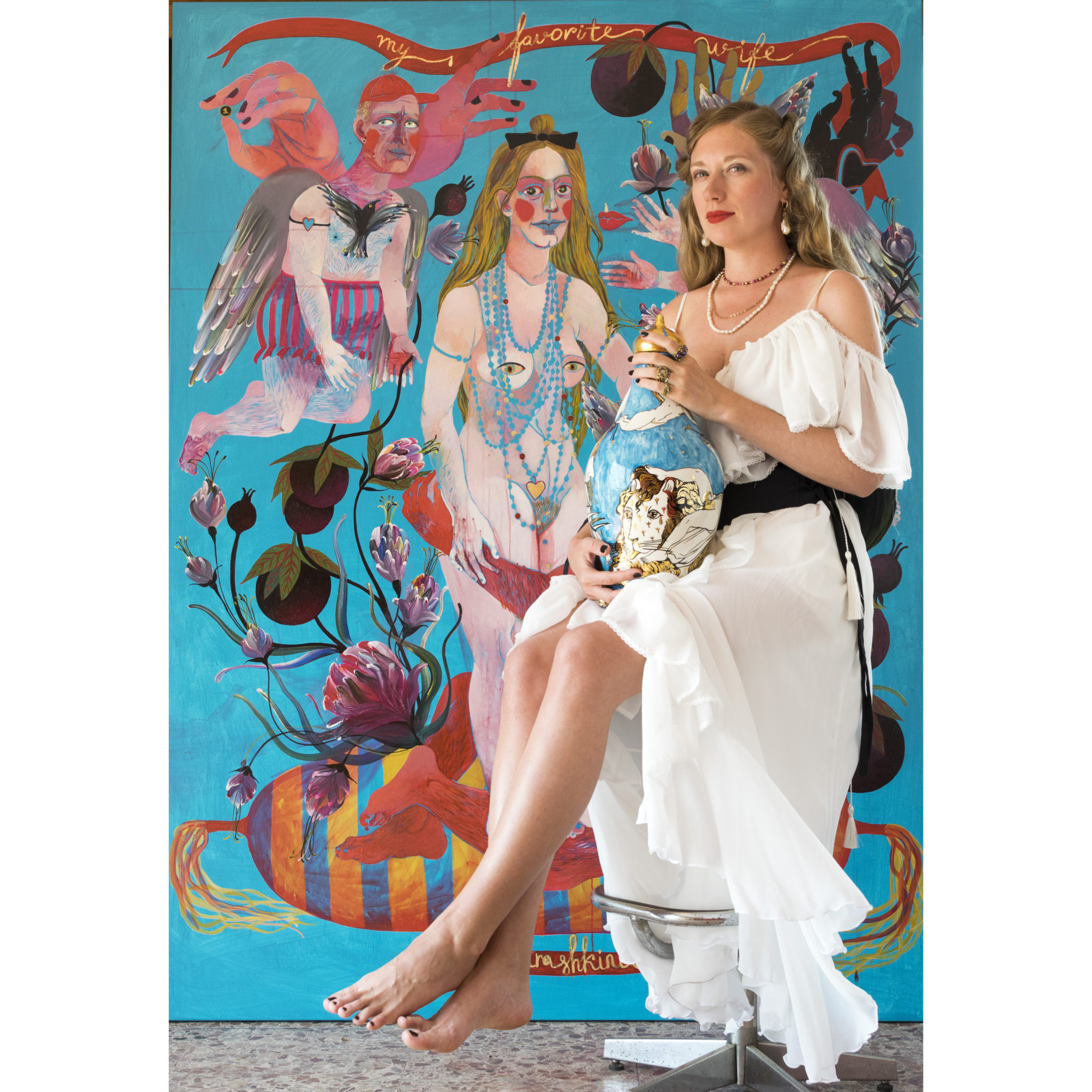 Nina Murashkina is a Ukrainian artist based in Barcelona, where she moved from Kyiv in 2017 after getting married. Her works combine mythology and themes around female nature and sexuality. Fine Art Shippers spoke with her about magic feminism, the war in Ukraine, and the meaning of art.
Artist Talk: Nina Murashkina on Magic Feminism 
You define your work as magic feminism. Can you please explain what that means to you? 
Nina Murashkina: I deal with the subject of feminism, but I am not a feminist. In my art, I explore themes associated with feminism, anti-feminism, machoism, etc. At the same time, I am very interested in the myths of ancient Greece, which brings a magical aspect to my art. And it's all based primarily on the strength and beauty of a woman. I tell my stories through my female characters.
To me, magic means everything related to imagination and art, while feminism is associated with the real world and science. Magic feminism is not about women's rights and equality, you can compare it to magic realism in literature. It comes from my imagination, in which a woman is a powerful goddess, creator, mother, and the center and origin of the universe. This mythical creature is myself and a universal woman at the same time. She can be sweet and terrible, tender and cruel. She can be a woman-snake, she can fall under the spell of an evil man-animal, or be obducted by a centaur.
Which art movements and artists can you name as your sources of inspiration?
There are many of them: Italian Renaissance, fresco painting, Japanese erotic prints, Indian miniature painting, including the Kama Sutra, and, of course, Ukrainian folklore artists like Maria Primachenko and Hanna Sobachko, with their expressiveness and passion for color. Some living artists I like include Annette Messager, Berlinde de Bruyckere, Grayson Perry, Pamen Pereira, and others.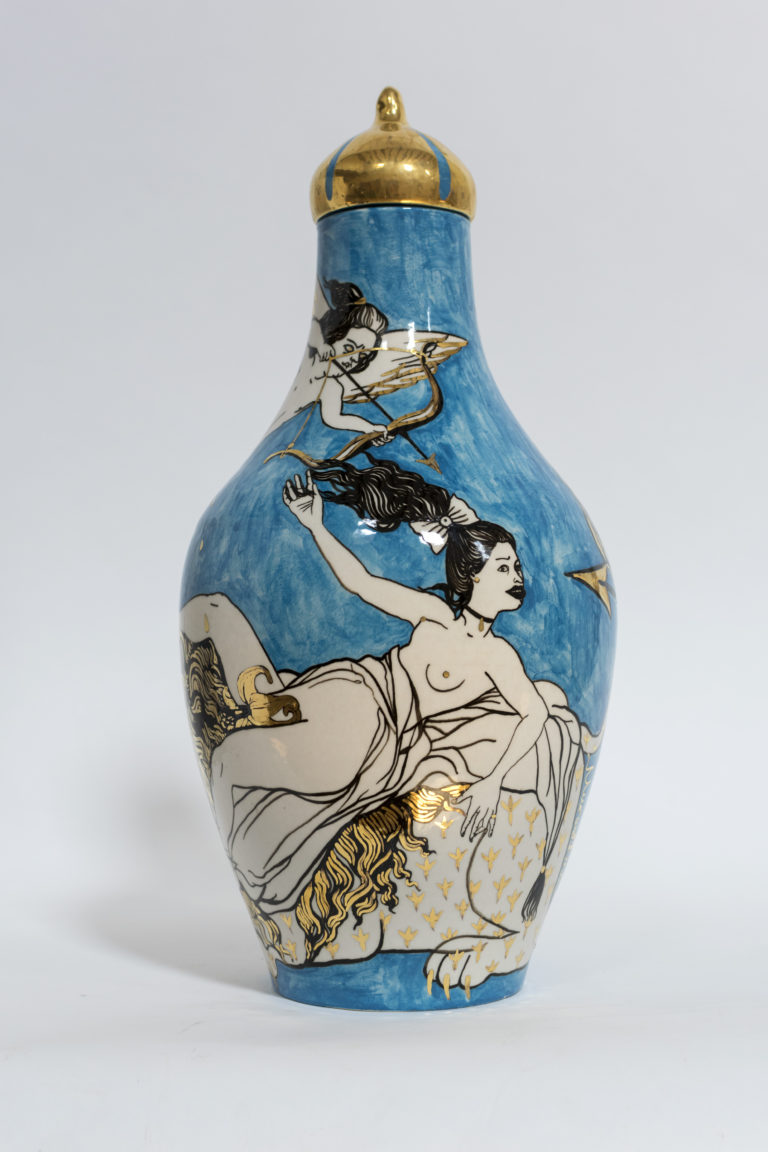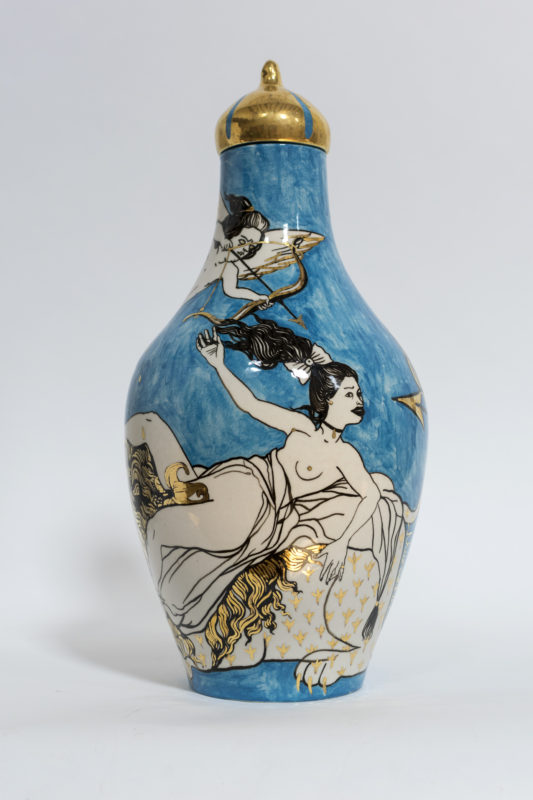 In which art genres do you work?
My main directions are painting, graphics, and ceramics, which I took up two years ago. I first started with plates and later experimented with vases. I conceive them as artworks, not utilitarian objects; they conceptually complement my paintings and graphics.
So you produce works in series?
Of course, modern reality requires serial and project-based thinking. But regardless of the time, every artist always creates one work in the course of their life; it only takes different forms. There is always a leitmotif that runs through the entire life of the artist. In addition, series help to convey the idea and make it easier for the viewer to understand.
What does it mean to you to be an artist?
Art is a territory of freedom where you can do anything. It gives me a sense of security and the opportunity to connect with my inner world. For me, art has a confessional character, which, in turn, enables self-healing. This is what makes art real and allows the viewers to find answers to their inner questions in it.
You exhibit and sell art all over the world. What has been your experience with art shipping?
Finding a good shipper who does not damage my works and makes sure they go through customs without any problems is a great luxury. I have had several bad experiences shipping art with ordinary shippers. Once I sent my drawings, which got stuck at customs in Barcelona and therefore arrived late for the exhibition and were not accepted. Two years ago, I had a personal exhibition in Abu Dhabi where I was supposed to show my paintings and ceramics, all of which were delivered broken. This year the same thing happened with my vases that I had sent from Barcelona to London. So a professional art shipper would be a real asset for me.
Please tell us about your current projects. 
I am working on a project titled "Wives." It is about wives who left Ukraine during the war. I'm reflecting on what happened to them and how they are trying to build a new life in Europe and other places. For example, one of the works is called "Lost Girl." It depicts a woman sitting on a washing machine at a laundromat, waiting for her clothes to be washed. She feels lonely and abandoned. And surrounding her are all the joys and vices of life in the war-free world and lilies, a symbol of purity. 
When and where will this series be displayed? 
The project is still in progress. I will exhibit part of it on September 8 in Barcelona, where I live. Once finished, the series will be shown in an exhibition in London.
Where were you when the war began?
In December 2021, my husband, who is also an artist, and I had an exhibition in Kyiv. We stayed another month to make some sales. In January, news about the imminent Russian invasion started to come, and we decided to leave. That was about a month before the war started.
What was your emotional reaction to the outbreak of war? 
When the reports of the first deaths appeared, I felt that art meant nothing at all. It was a distinct physical sensation of emptiness and stupor filling my body. I was unable to work or do anything. At some point, I started helping friends in Ukraine get out of the country, and that diverted my attention to other things and made me feel like I had at least some control over my life.
Photo courtesy of Nina Murashkina