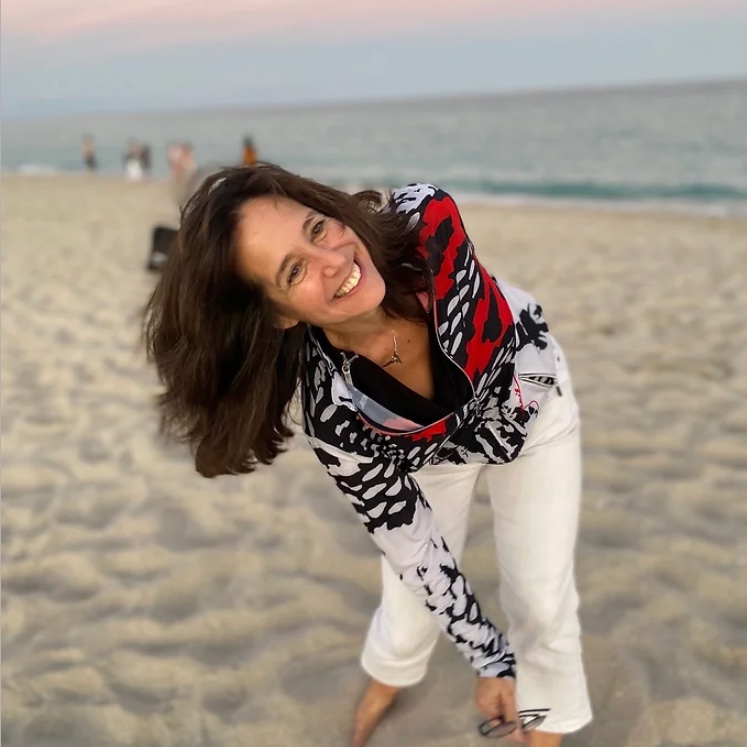 Lori Horowitz, a native of New York, is a multidisciplinary artist whose work encompasses sculpture, installation, graphics painting, photography, and mixed media. Her art is rooted in humanity and driven by her interest in the diverse manifestations of the human spirit. Fine Art Shippers spoke with her about complexity and simplicity, inspiration, and challenging assumptions. 
Artist Talk: Lori Horowitz on Art as a Humanist Endeavor
I would like to begin by discussing your diverse background, which includes experiences in scenic design, arts, education, and curating. How have these different experiences impacted you as an artist and as a person?
Lori Horowitz: I believe that the more roles you take on, the richer your experiences become, enhancing your artistic abilities. After college, I started as a painter and sculptor, but quickly transitioned to set design. This experience, with the rigorous quality standards expected in commercial work, prepared me for my own work. The set design also allowed me to learn aspects like lighting and set composition. Unlike many artists who prefer simplicity, I find beauty in complexity. My work is layered, which makes it similar to theater performance where multiple elements contribute to a powerful whole. Working alongside scenic artists exposed me to different techniques, which greatly enriched my skillset. Teaching was another hat I wore briefly, giving me an opportunity to share my knowledge. Another role I've tried—working as a producer—helped me understand people better, while running a gallery honed my skills in PR and curation. Overall, my motto is "more is more."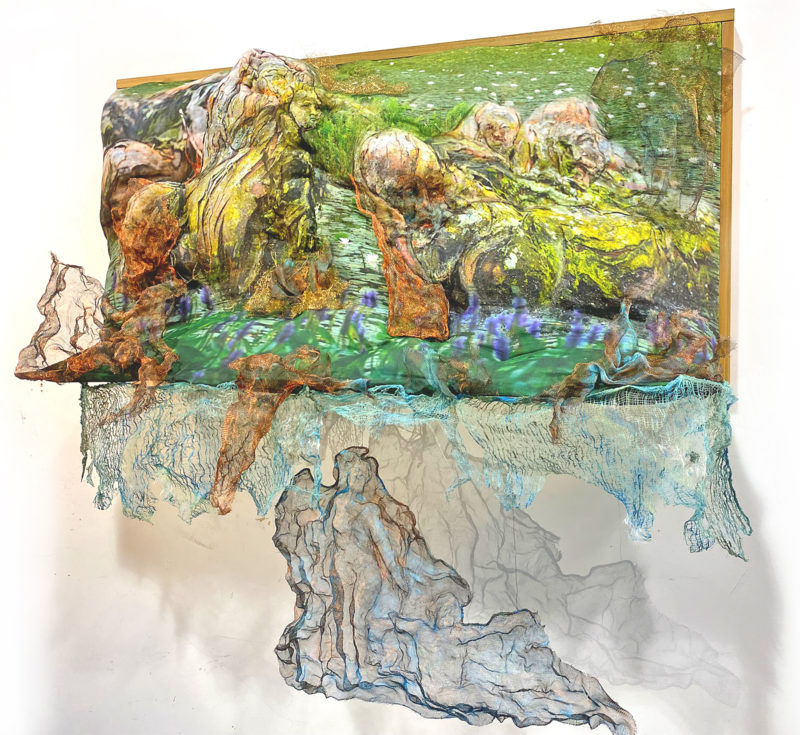 The work you do for yourself is deeply personal, as it's something you create for your own soul. Could you tell me more about the meanings and ideas you explore and seek to convey through your art? 
As an artist, I don't just explore my own inner world but rather focus on reflecting the world around me—its political, social, and environmental dynamics. I feel it's my duty to process and present these aspects through my art, particularly the ones that often get overlooked. These include societal issues like poverty, displacement, and social unrest—harsh realities that people tend to avoid. My artwork isn't always conventionally beautiful or pleasant to look at, but it aims to raise awareness and stimulate conversation about these difficult topics.
Before the pandemic, I spent time meeting people, understanding their stories, and challenging my own assumptions. In my figurative works, I initially used paper mache, a theater technique I'm particularly comfortable with, to create life-sized portraits of people. Recently I turned to photography, which I use as a starting point. I always carry a camera with me to capture people, places, and events, and then turn them into more detailed, multi-layered artistic representations.
Post-pandemic, my focus shifted to nature. I began photographing various forms of growth, such as fungi and mushrooms, which emerged from dead trees. To me, it was a beautiful illustration of new life springing from decay.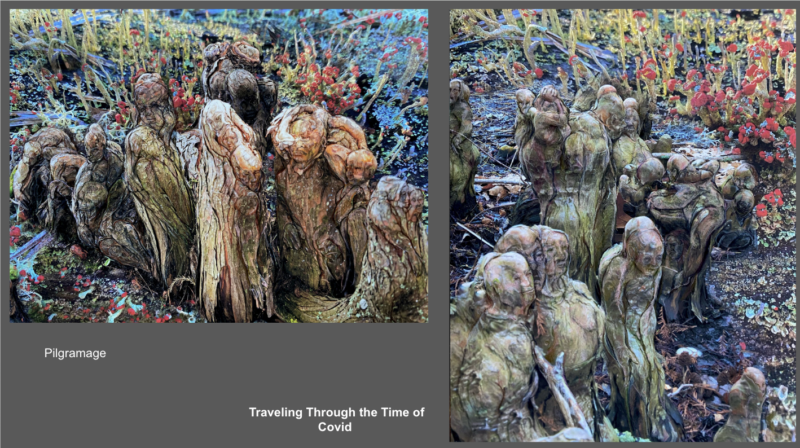 Your recent show in New York City featured your series "Rooted in Humanity." Could you discuss this work in more detail?
"Rooted in Humanity," came about towards the end of covid-19. During the pandemic, there was a  sense of unity worldwide, as the pandemic affected us all, regardless of nationality, gender, or race. 
Those feelings of despair and hopelessness found reflection in my work, manifesting as body language in my pieces—the drooping bodies, shrouded figures. I sculpted life-sized figures from chicken wire—a material I find incredibly versatile—and clad them with copper or wire, resulting in a scrim effect where light could project through or glow depending on the lighting. This trick allowed me to create shadows that resembled fine graphite drawings— the shadows of our former selves.
As I mentioned earlier, at that time, I immersed myself in nature to seek inspiration for my new series. Once I stumbled upon a peculiar natural phenomenon in a park—small root formations known as Cedar knees.
These formations, three to six inches tall, strikingly resembled human figures in exodus. I captured them in hundreds of photos, experimenting with different lighting and visiting them at varying times of the day. They became the basis for my drawings and the sculptures in the series.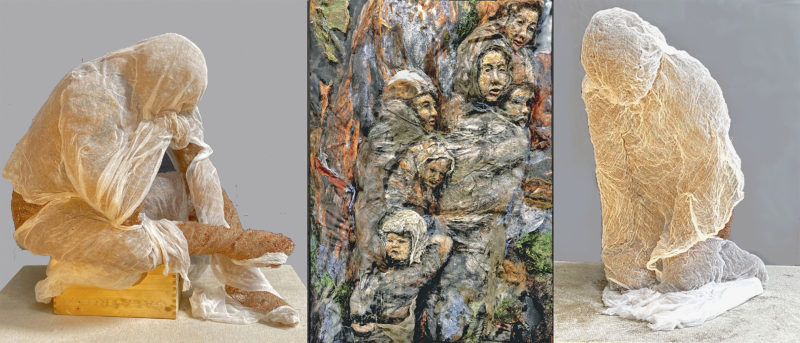 Earlier, you touched upon your work as a curator. Could you share more about the projects you've undertaken? How has this curatorial experience influenced or altered your perspective on your own art and your role as an artist? 
A few years ago, I founded a non-profit organization to foster an artistic community in Long Island, where I felt there was a cultural void. My journey into curation began out of necessity; I had never curated a show prior to this, but I threw myself into learning. I was fortunate to have a mentor from the Met, who provided me with invaluable guidance and support. Over four and a half years, I showcased the works of roughly 400 artists.
Curating a show is like putting together a puzzle. I deliberately kept the themes open and layered to allow for a variety of works. To date, I've curated between 25 to 30 shows. I now manage curated exhibits for the New York Society of Women Artists and the New York Artist Circle, among others, as well as individually.
In conclusion, I would like to ask you a philosophical question. What is art at its core? 
Art can be anything, and each artist has a unique perspective. Some artists might express their inner demons, others aim to capture beauty, and some simply want to sell their work.
As for me, I see my artistic ability as a gift and feel a strong responsibility to share it. I try to observe what's happening in the world, interpret it through my art, and share it with others. I believe art is meant to be seen, not kept hidden in a studio. If I were to only make art for myself, it would feel self-indulgent. I want to tell stories and engage with the world around me.
Interview by Inna Logunova
Photo courtesy of Lori Horowitz (from the series "Rooted in Humanity")