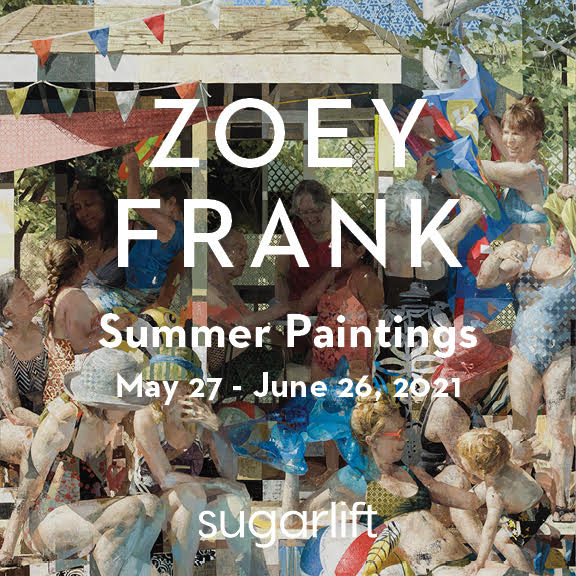 Sugarlift has recently presented another great art exhibition that is currently on view at the gallery's location in NYC's West Chelsea arts district, at 508 West 28th Street. Titled "Zoey Frank: Summer Paintings," it is a solo show of the talented Colorado-based artist Zoey Frank who is best known for her work incorporating perceptual painting, narrative, and formal investigations. The exhibition was officially opened on May 27 and will run at Sugarlift through June 26, 2021.
"Zoey Frank: Summer Paintings" at Sugarlift
Inspired by pictorial space and time, Zoey Frank creates beautiful oil paintings that often combine elements from different periods of art history. Her art is a mix of Abstract Expressionism, High Renaissance, and classical Greco-Roman art, but also very unique and defined in style. Zoey Frank's paintings render everyday situations and activities, yet her depictions of the surrounding world may seem unfamiliar to the viewer due to the artist's masterful use of perspective.
"Summer Paintings" is a collection of Zoey Frank's new works that perfectly highlight the feelings of nostalgia, warmth, community, abundance, and all those things that are associated with the season. Among the highlights are the oil on canvas painting "Pool Party" and the oil on linen work "After the Pool," both distinguished by the artist's signature compositional style and lively tableaus exuding the joy of gathering.
Another notable painting presented at the exhibition is Zoey Frank's "Berlin Windows #3." In this work, the artist pays tribute to the season by capturing light in a way that leaves no doubt that it is summer.
"Zoey Frank: Summer Paintings" exhibition is on view at Sugarlift through June 26, so be sure to visit the show to enjoy the latest works by the talented Colorado-based artist. A joyful summer mood is guaranteed!
Photo courtesy of Sugarlift