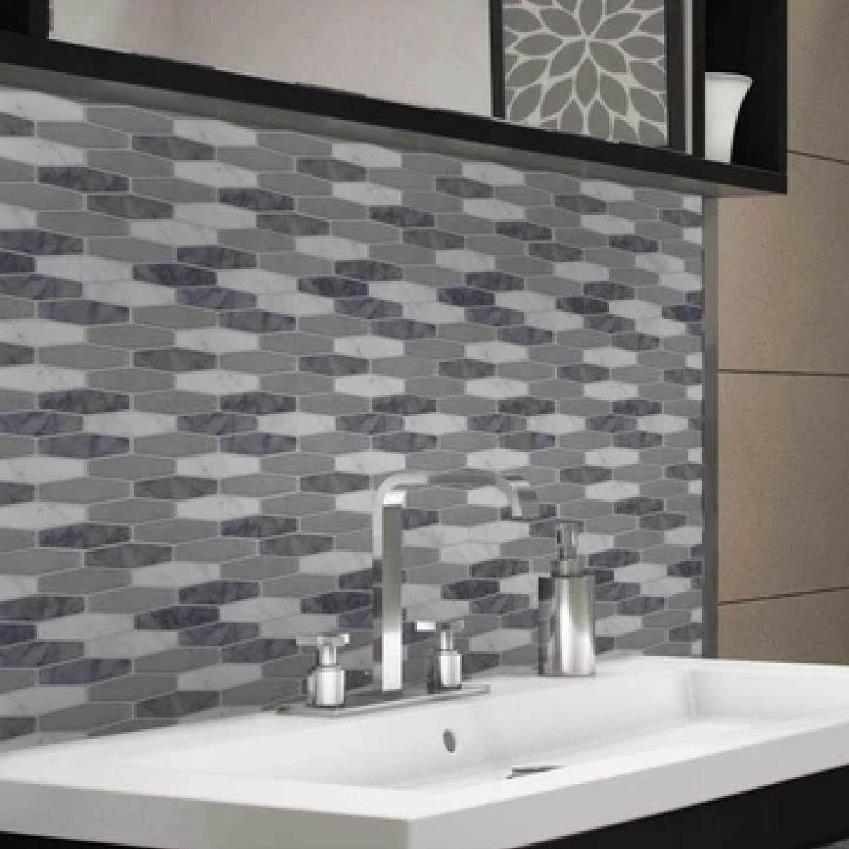 If you are planning your interior design or a makeover of your existing home, considering tiling for walls, floors, kitchen backsplashes, and bathrooms could be a wise choice. Usually, mosaic tiles are affordable, durable, and need minimal maintenance. Tiling various interior surfaces brings a unique style statement and elegance.
Choosing the right color, pattern, material, style, and finish of the mosaic tiles is crucial. Marble hexagon tile is trending today. Homeowners love this intricate tile pattern and the eternal glamour of marble.
It looks like a simple decision to make. However, before finalizing your tile option, it is vital to understand the pros and cons of hexagon tiles.
In this article, let's discuss how it can be advantageous to select hexagon tiles. At the same time, let's analyze the precautions you must take while installing hexagon marble tiles or hexagon tiles in any other mosaic tile material.
Pros of Hexagon Tiles
Many homeowners love hexagon tiles for various reasons. Are you fond of doing things differently? Installing hexagon tiles should be an attempt you should never miss during interior decor or home renovation projects. Let's see how hexagon tiles bring positive influences to your homes:
●      Variety
Hexagon mosaic tiles are available in wide-ranging colors, finishes, styles, and for diverse tiling applications. Marble hexagon tile has been a popular variety for many years. You get the classic aura by installing a marble mosaic and add a glimpse of modernity through a stylish hexagon tile pattern.
Apart from this pattern, you can browse through the vast collection of marble mosaics to try various other tile patterns for your upcoming home renovation project.
Hexagon tiles are available in various materials, like ceramic, porcelain, glass, stone mosaic, and peel and stick tiles. Attractive colors, such as black, brown, blue, white, gold, yellow, and gray, help you effortlessly execute various interior decor ideas. Enormous tile finishes bring you the freedom to implement classic and modern styles effectively.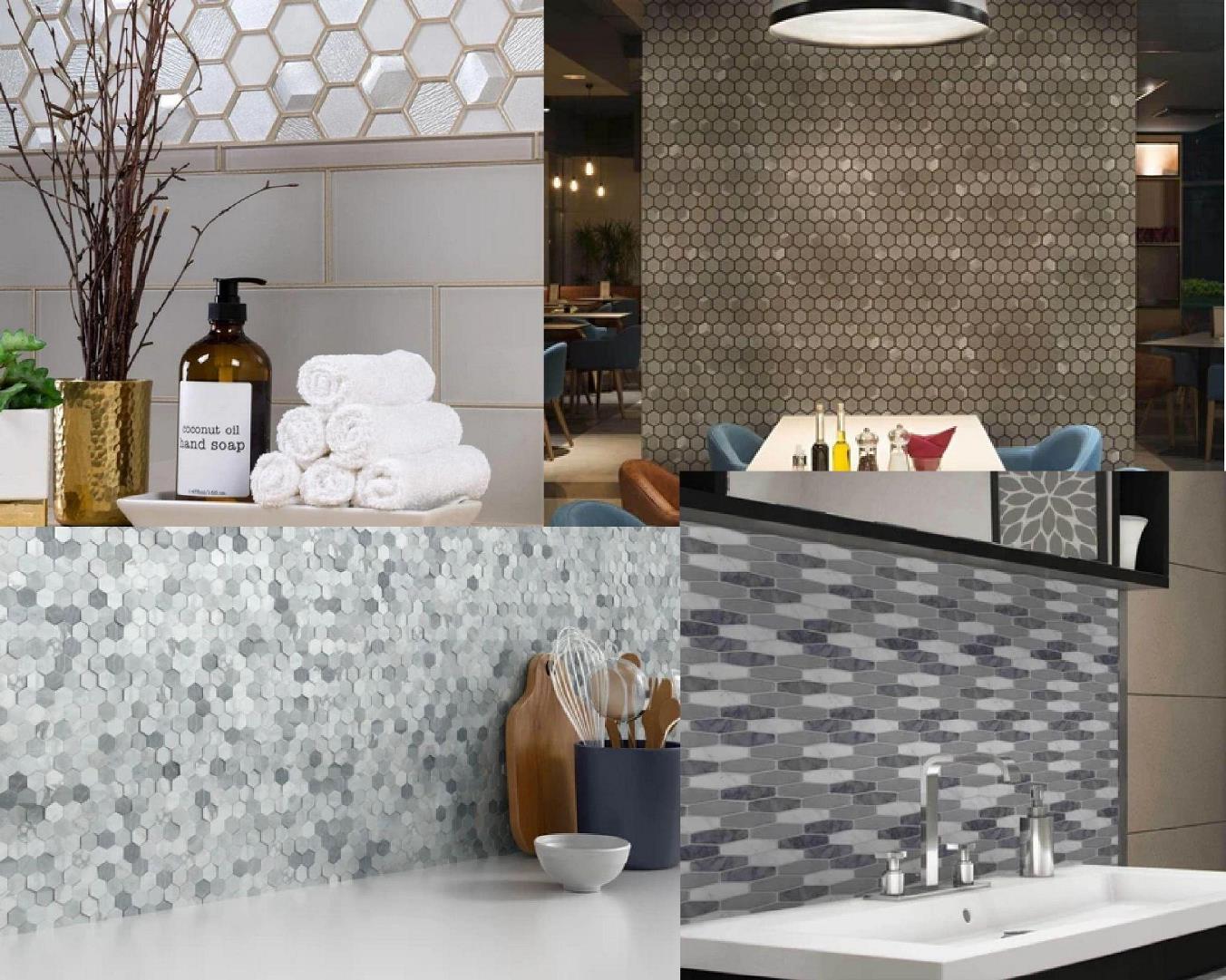 ●      Versatility
Hexagon mosaic tiles are suitable for various tiling applications. Marble mosaic tiles in hexagon patterns add value to any installation. You can beautify a bathroom wall, create an accent wall in the living room, or decorate your kitchen backsplash by installing marble hexagon tile.
This excellent versatility of applications makes marble hexagon tiles and hexagon tiles in other materials a preferred choice for home renovation projects. You can have a neutral color of tiles with a similar grout to attain a classic decor style. Similarly, choose a vibrant tile color, a beveled hexagon pattern, and a metallic finish to make the installation look modern and sophisticated.
Browse through an exclusive collection of hexagon mosaic tiles offered by a renowned mosaic tile online store. The variety and excellent aesthetics in various applications will encourage you to choose a suitable hexagon tile for your home decor or home renovation project. 
●      Excellent Decor Possibilities
Hexagon and elongated hexagon are some of the most beautiful tile patterns. The intricate geometric design, blended with the superb finish, color, and durable material, retains your tiling installation's elegance in the long run. Hexagon mosaic tiles inspire you to get creative and design different eye-catching interior decor ideas.
Hexagon tiles enhance the aesthetic appearance of any surface you tile them with and make various parts of your home look gorgeous. You can also try mixing other patterns, colors, and finishes with hexagon tiles to create a unique design idea.
Marble hexagon mosaic tiles for all-white kitchens, bathroom walls, and floor; white and black marble and stone mosaics to beautify your kitchen backsplash and bathroom walls are some of the excellent design ideas. Refer to the image collage above to see how marble hexagon tiles add value to your home.
Cons of Hexagon Tiles
After going through the positive influences hexagon mosaics bring to your home decor, it's time to analyze the other side of the coin. There is no harm in adopting hexagon mosaic tiles for various applications. However, you should be aware of the cons of choosing hexagon mosaic tiles for your home restyling endeavor.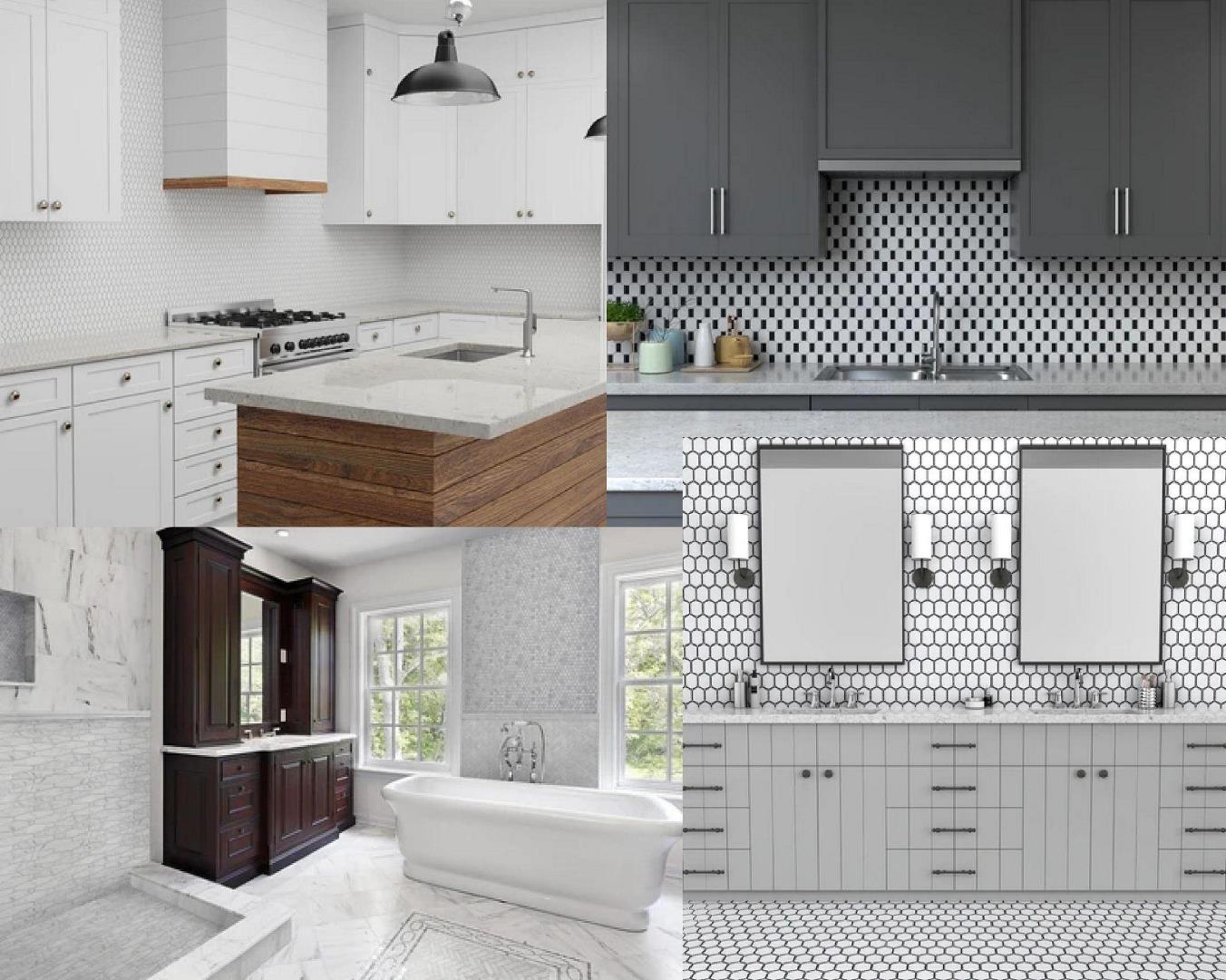 Here are some significant drawbacks of hexagon tiles:
●      A Bit Tedious to Install
As you know, hexagon mosaic tiles possess six sides and angles. Therefore, it may be a time-consuming and laborious process for DIYers to install these tiles. It is tedious to mark all the sides beforehand on the surface for lining out the actual installation.
Installing marble hexagon tiles requires patience and solid attention to detail. Though peel and stick hexagon tiles could be an easy-to-install option, other materials need the expertise to install. You may hire a professional tiling contractor for this job. However, the installation takes more time than the usual subway, rectangular, diamond, and square tile patterns.
●      Changing Trends
People prefer rectangular, stacked square, and subway tile patterns for that timeless aura and styling. Some designers feel that the hexagon tile pattern may go out of style after a few years. Trends in fashion and interior design keep changing as time passes. Marble hexagon tile may be a less preferred option for some homeowners due to this conception.
However, many homeowners love hexagon tiles for their uniqueness, the visual appeal, and the accent they create. It's only a guess that this pattern will fade after a few years. That should not stop you from choosing the marble hexagon tile and hexagon in other materials to decorate various parts of your home.
The Bottom Line
The article covers some significant pros and cons of hexagon tiles. We hope that the various aspects of hexagon tiles discussed in this article will help you take the necessary cautions while installing hexagon tiles. Similarly, the facts covered in this article will help you choose an appropriate marble hexagon tile or a hexagon tile made of other materials for your next home renovation project.
Photo courtesy of Mosaic Tile Outlet