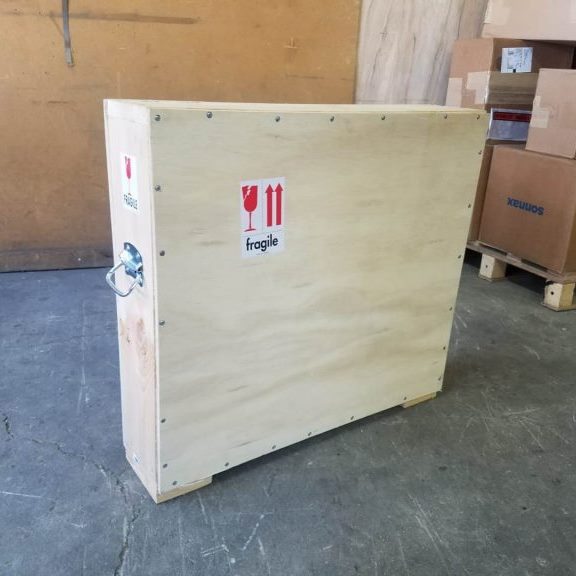 A painting crate is a sturdy container typically used to transport fine art pieces over long distances. These crates are constructed specifically for each item, based on its size and condition. The most common material for a crate is wood or plywood because it is robust, durable, relatively easy to customize, and environmentally friendly. 
When You Should Ship Your Artwork in a Painting Crate
Any professional art handler will tell you that there are many circumstances when soft packing is sufficient for transporting a piece of fine art. For example, when it comes to relocating a small canvas by a contemporary artist by car, a cardboard box, a few layers of acid-free paper, and bubble wrap are all you need. Or rather, a cardboard shipping tube is even better than a painting crate for an unframed fine art print that can easily be rolled into a tube.
However, there are many situations where we prefer a painting crate over soft packing for fine art shipping. Here are the most common of them.
1. You ship internationally
Shipping a painting internationally can pose several risks, including rough handling and changes in temperature and humidity. A well-designed painting crate can protect your fragile artwork from both of these risks. Wood provides a sturdy and robust structure against external shocks, as well as a degree of insulation that helps regulate temperature and humidity levels within the crate.
In addition, insurance coverage for international shipments often requires proper packaging. In fact, most insurance companies and carriers will refuse to ship the artwork without a crate.
2. Your painting is large or oddly shaped
Shipping crates are often used for large and oddly shaped artworks that are more likely to be damaged during transportation than average-sized items. In addition to protecting the artwork, wooden crates also help properly secure the freight inside the cargo so that the crate won't shake during transit and damage the item.
3. Your painting is extremely valuable
It is recommended that you ship high-value items, including paintings, in custom-made wooden crates, as they provide an extra layer of protection against shock, vibration, and changes in environmental conditions. Wooden crates can be designed with internal cushioning materials to absorb shock and vibration, as well as with a special layer of insulation to maintain a stable temperature and humidity level inside the crate.
Museum-quality crates can be designed with security features, such as locking mechanisms, to prevent unauthorized access to the artwork during transit. This is especially important for irreplaceable pieces of art.
We hope that this blog post was helpful to you. Anyway, it is better to entrust the decision on whether to use a painting crate or not in your situation to professionals in fine art shipping. That is why we recommend contacting trustworthy and reputable moving companies such as Fine Art Shippers.