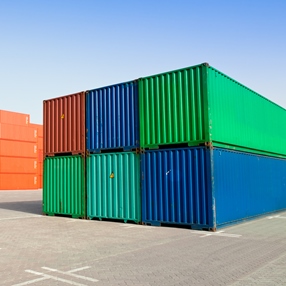 What is a shipping container? At Fine Art Shippers, we have been engaged in fine art packing and shipping business for 20+ years, which allows us to say with confidence that a shipping container is actually any container used for secure shipping of goods, from corrugated boxes and wooden crates used for packing and crating fine art to large stainless steel boxes used for international transportation and intermodal shipments. The latter are of particular importance and not only for shipping luxury goods. The fact is that large intermodal shipping containers ranging in length from 20 to 40 feet are now also used as building materials. How does it work?
Designers and architects have found a smart way to modify used shipping containers and transform them into fully functional and beautiful homes. As a result, modern shipping container homes are durable, stylish, and, what is even more important, affordable, usually available for half the price of a "normal" house. Besides, they can also be portable. So let's look at several luxury shipping container homes from around the world!
1. The Quik House
Made from recycled shipping containers, the Quik House consists of two separate structures joined together by a small yard that can be turned into a stylish patio. Designed by Adam Kalkin, it is located in New Jersey.
2. The Beach Box
Designed and developed by Andrew Anderson, the Beach Box is the first luxury home built with recycled shipping containers in the Hamptons, one of the wealthiest areas of New York.
3. The Crossbox House
Designed by CG Architecte and built from four prefabricated modules, the Crossbox House has three bedrooms, two bathrooms, a large living room, and a kitchen. It is located in Pont-Pean, France.
4. Containers of Hope
Containers of Hope is a low-cost home made with two 40′ shipping containers for only $40,000. It was designed by Benjamin Garcia Saxe and is located in San Jose, Costa Rica.
5. The Manifesto House
It is impossible not to mention the Manifesto House located in Curacavi, Chile, one more luxurious home entirely made from shipping containers and wooden pallets. Designed by James & Mau Arquitectura, it additionally runs on solar energy.
With this list of luxury shipping container homes, the concept of recycling containers takes a new turn. To use them in housing or as retail and office spaces is undoubtedly a wise solution and an affordable option for many!