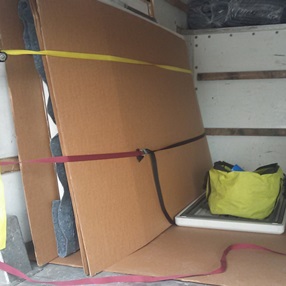 Whether it comes to a substantial collection or a single artwork, the only right way to ensure that everything is delivered in its perfect condition is to hire a reliable company specializing in shipping artworks both across the country and internationally. This is especially important if your collection includes odd-shaped, large, or very fragile items that require special care and attention during the whole process of transportation. Whatever your moving needs, Fine Art Shippers can help! After all, to ship fine art is our specialty, and we know exactly how to handle artwork of any kind. Besides, in addition to shipping artworks, we also provide a range of other essential services, including art packing, art crating, art installation, art storage, and certainly art insurance. This all allows our team of professional art shippers to work with many reputable dealers, auction houses, interior designers, galleries, and private collectors, shipping artworks for them nationally and around the world too.
Art packing process
It goes without saying that when it comes to shipping artworks, proper packing is crucial. At Fine Art Shippers, we pay special attention to this process, offering our clients a variety of museum methodologies in packing and crating fine art. Moreover, since each artwork is unique, our trained team of art shippers assesses the condition and nature of each particular item before deciding on the most appropriate packing solution.
The next essential step of the artwork shipping process is packing art in the truck. First of all, it is important to ensure that every piece is fitted with special foam for protection and shock absorption. Secondly, it should be properly secured, but not very tight, especially when moving paintings framed with glass as it can easily crack in transit. In fact, there are many things that should be considered when shipping artworks, no matter locally or interstate, so the decision to hire experienced art shippers is definitely a wise one. 
Affordable art shipping solution
It is also worth noting that all our fine art shipping services are reasonably priced, which allows our team to work with novice and street artists, helping them grow and spread their art throughout the country. Besides, we offer economical sea shipping solutions, so if you need your art to be delivered overseas, you won't find a more affordable option than the one we can offer you at Fine Art Shippers. In other words, shipping artworks with us is always the right and the most cost-effective decision!